Background
Biperiden HCl is an anticholinergic drug [1].
As an anticholinergic drug, biperiden is first used in the treatment of Parkinson's disease. It is a competitive antagonist of muscarinic receptor. It has been believed that in the patients of PD, a reduction of intranigral dopamine concentrations results in a relative imbalance between the dopaminergic and cholinergic neurological pathways. The anticholinergics can correct the imbalance through reducing the degree of neurotransmission mediated by neostriatal acetylcholine. Biperiden is also used to treat extrapyramidal side effects of antipsychotic drugs. In addition, the misuse of biperiden causing delirium has been reported in several clinical settings [1, 2].
References:
[1] Brocks D R. Anticholinergic drugs used in Parkinson's disease: an overlooked class of drugs from a pharmacokinetic perspective. J Pharm Pharm Sci, 1999, 2(2): 39-46.
[2] Espi Martinez F, Espi Forcen F, Shapov A, et al. Biperiden Dependence: Case Report and Literature Review. Case reports in psychiatry, 2012, 2012.
文献引用
Chemical Properties
| | |
| --- | --- |
| Physical Appearance | A solid |
| Storage | Store at -20°C |
| M.Wt | 347.92 |
| Cas No. | 1235-82-1 |
| Formula | C21H30ClNO |
| Solubility | ≥8.7mg/mL in DMSO |
| Chemical Name | 1-(5-bicyclo[2.2.1]hept-2-enyl)-1-phenyl-3-piperidin-1-ylpropan-1-ol;hydrochloride |
| SDF | Download SDF |
| Canonical SMILES | C1CCN(CC1)CCC(C2CC3CC2C=C3)(C4=CC=CC=C4)O.Cl |
| 运输条件 | 试用装:蓝冰运输。 其他可选规格:常温运输或根据您的要求用蓝冰运输。 |
| 一般建议 | 为了使其更好的溶解,请用37℃加热试管并在超声波水浴中震动片刻。不同厂家不同批次产品溶解度各有差异,仅做参考。若实验所需浓度过大至产品溶解极限,请添加助溶剂助溶或自行调整浓度。 |
试验操作
动物实验:

动物模型

雄性Lister Hooded大鼠模型;

剂量

3和10 mg / kg,腹腔注射,90分钟;或4 mg,口服给药

应用

Biperiden HCl在大鼠中作为认知损伤诱导剂,Biperiden(10mg/kg)诱导副作用,使得大鼠花费更多的时间执行任务 [1]。 此外,口服剂量4mg的Biperiden HCl能达到的最高血药浓度值约4ng/mL [2]。

注意事项

请于室内测试所有化合物的溶解度。实际溶解度和理论值可能略有不同,这是由实验系统的误差引起的,属于正常现象。

References:

1. Szczodry, O., van der Staay, F. J. and Arndt, S. S. (2014) Modelling Alzheimer-like cognitive deficits in rats using biperiden as putative cognition impairer. Behav Brain Res. 274, 307-311

2. Brocks, D. R. (1999) Anticholinergic drugs used in Parkinson's disease: An overlooked class of drugs from a pharmacokinetic perspective. J Pharm Pharm Sci. 2, 39-46
质量控制
化学结构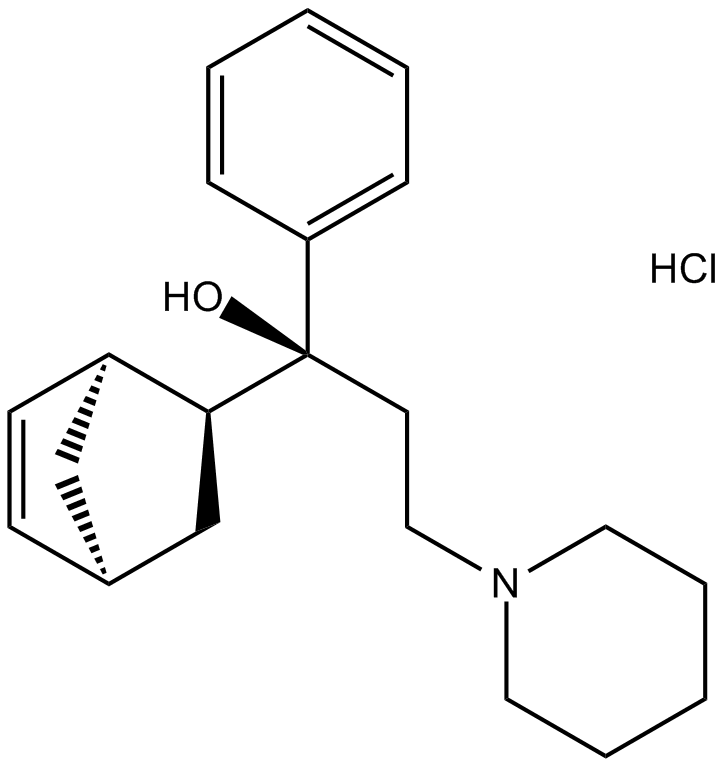 相关生物数据