Background
IC50: < 500 nM for BRD4
BET (bromodomain and extra-terminal) proteins regulate gene expression through their ability to bind to acetylated chromatin and subsequently activate RNA PolII-driven transcriptional elongation. The bromodomain (BRD) and extra-C terminal domain (BET) protein family consists of four members (BRD2, BRD3, BRD4 and BRDT).Small molecule BET inhibitors prevent binding of BET proteins to acetylated histones and inhibit transcriptional activation of BET target genes. BET inhibitors attenuate cell growth and survival in several hematologic cancer models, partially through the down-regulation of the critical oncogene, MYC. BET bromodomain inhibitor is a potent and selective inhibitor for BRD4.
In vitro: The most potent systhsized ompound presented is BET bromodomain inhibitor, which shows activity with IC50 < 500 nM against BRD4 [1].
In vivo: BET bromodomain inhibitor shows activity in vivo at < 10 mg/kg against BRD4 in rat [1].
Clinical trial: Up to now, BET bromodomain inhibitor is still in the preclinical development stage.
Reference:
[1] Garnier JM, Sharp PP, Burns CJ.  BET bromodomain inhibitors: a patent review. Expert Opin Ther Pat. 2014 Feb;24(2):185-99.

文献引用
Chemical Properties
| | |
| --- | --- |
| Physical Appearance | A solid |
| Storage | Store at -20°C |
| M.Wt | 365.81 |
| Cas No. | 1380087-89-7 |
| Formula | C20H16ClN3O2 |
| Synonyms | CPI-0610; CPI0610; CPI 0610 |
| Solubility | ≥18.3mg/mL in DMSO |
| Chemical Name | 2-(6-(4-chlorophenyl)-1-methyl-4H-benzo[c]isoxazolo[4,5-e]azepin-4-yl)acetamide |
| SDF | Download SDF |
| Canonical SMILES | CC1=NOC2=C1C3=CC=CC=C3C(C4=CC=C(C=C4)Cl)=NC2CC(N)=O |
| 运输条件 | 试用装:蓝冰运输。 其他可选规格:常温运输或根据您的要求用蓝冰运输。 |
| 一般建议 | 为了使其更好的溶解,请用37℃加热试管并在超声波水浴中震动片刻。不同厂家不同批次产品溶解度各有差异,仅做参考。若实验所需浓度过大至产品溶解极限,请添加助溶剂助溶或自行调整浓度。 |
试验操作
细胞实验[1]:

细胞系

原代多发性骨髓瘤细胞系

溶解方法

在DMSO中的溶解度> 18.3mg/mL。为了获得更高浓度,可以将离心管在37℃加热10分钟和/或在超声波浴中震荡一段时间。原液可以在-20℃以下储存几个月。

反应条件

2 μM,72小时

应用

CPI-0610治疗导致从新诊断的患者分离的原代多发性骨髓瘤细胞的活力降低40%,并且在从复发的疾病患者分离的原代多发性骨髓瘤细胞中引起50%的细胞死亡。

动物实验[1]:

动物模型

多发性骨髓瘤异种移植CB17-SCID小鼠模型

剂量

皮下注射,10 mg/kg,一天两次,38天

应用

用CPI-0610处理的小鼠显示出肿瘤生长的显著延迟,并且用CPI-0610治疗过的动物的中位总生存期显著延长。

注意事项

请测试所有化合物在室内的溶解度,实际溶解度和理论值可能略有不同。这是由实验系统的误差引起的,属于正常现象。

References:

[1] Siu KT, Ramachandran J, Yee AJ, et al. Preclinical activity of CPI-0610, a novel small-molecule bromodomain and extra-terminal protein inhibitor in the therapy of multiple myeloma. Leukemia. 2017 Jan 3.
质量控制
化学结构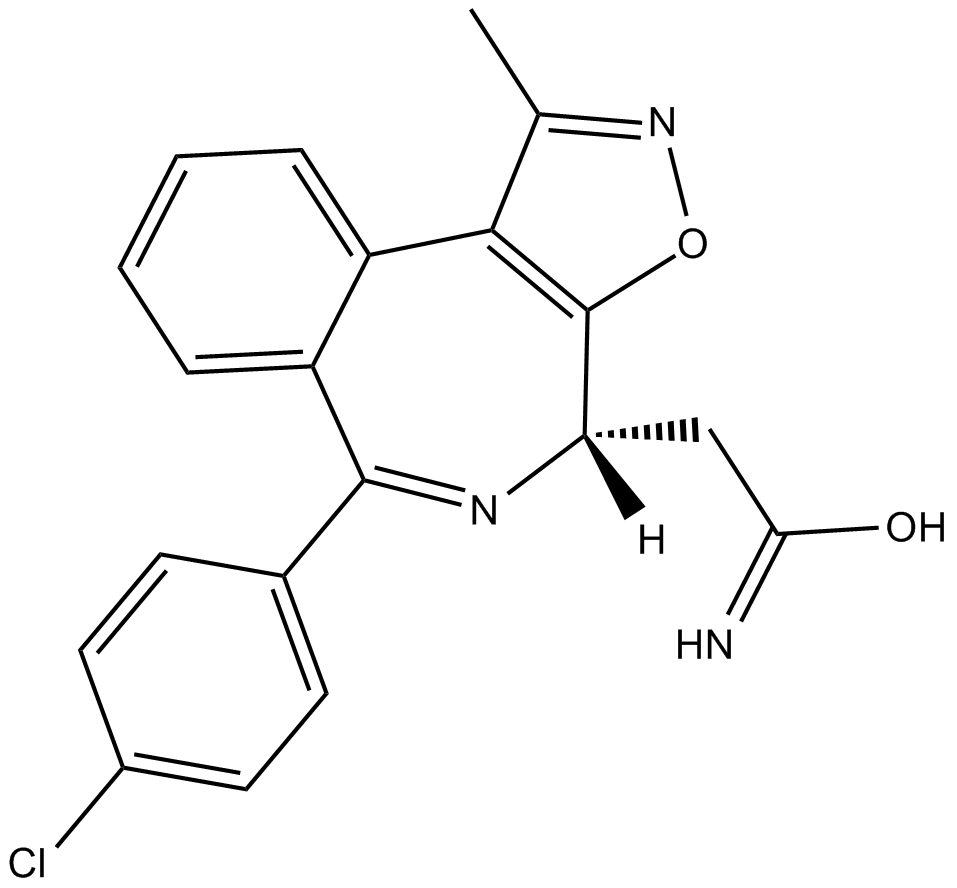 相关生物数据