Background
AST487 is an inhibitor of RET kinase with IC50 value of 0.88μM [1].
AST487 belongs to the N,N'-diphenyl urea class. It inhibit the activity of RET kinase as well as many other kinases( such as KDR, Flt-3 and c-Kit) in vitro. In the cell assay, the inhibition effect of AST487 is displayed both in PC-RET/PTC3 cells and TT cells, which harbor an endogenous activating point mutation of RET (RETC634W). AST487 decreases RET autophosphorylation and activation of PLCγ and ERK with a dose-dependent manner. Additionally, AST487 is also found to inhibit the growth of human thyroid cancer cell lines with RET, but not BRAF mutations. It supports the selectivity of AST487 for RET. In vivo assay shows that AST487 causes significant reductions in the size of NIH3T3-RETC634W xenografts with doses >30 mg/kg/d and oral administration of AST487 at 50 or 30 mg/kg/d decreases mean tumor volume in mice [1].
References:
[1] Nagako Akeno-Stuart, Michelle Croyle, Jeffrey A. Knauf, et al. The RET kinase inhibitor NVP-AST487 blocks growth and calcitonin gene expression through distinct mechanisms in medullary thyroid cancer cells. Cancer Res. 2007, 67:6956-6964.
文献引用
Chemical Properties
| | |
| --- | --- |
| Storage | Store at -20°C |
| M.Wt | 529.56 |
| Cas No. | 630124-46-8 |
| Formula | C26H30F3N7O2 |
| Synonyms | NVP-AST 487 |
| Solubility | ≥26.5 mg/mL in DMSO, ≥51.2 mg/mL in EtOH, <2.54 mg/mL in H2O |
| Chemical Name | 1-[4-[(4-ethylpiperazin-1-yl)methyl]-3-(trifluoromethyl)phenyl]-3-[4-[6-(methylamino)pyrimidin-4-yl]oxyphenyl]urea |
| SDF | Download SDF |
| Canonical SMILES | CCN1CCN(CC1)CC2=C(C=C(C=C2)NC(=O)NC3=CC=C(C=C3)OC4=NC=NC(=C4)NC)C(F)(F)F |
| 运输条件 | 试用装:蓝冰运输。 其他可选规格:常温运输或根据您的要求用蓝冰运输。 |
| 一般建议 | 为了使其更好的溶解,请用37℃加热试管并在超声波水浴中震动片刻。不同厂家不同批次产品溶解度各有差异,仅做参考。若实验所需浓度过大至产品溶解极限,请添加助溶剂助溶或自行调整浓度。 |
试验操作
细胞实验[1]:

细胞系

Baf3细胞

溶解方法

在DMSO中的溶解度>10 mM。为了获得更高的浓度,可以将离心管在37℃加热10分钟和/或在超声波浴中震荡一段时间。原液可以在-20℃以下储存几个月。

反应条件

10 min;IC50=34±4 nmol/L

应用

在Baf3小鼠原B细胞淋巴瘤细胞系中呈现生长因子不依赖的各种激活酪氨酸激酶的转导,表明对RET驱动的细胞增殖的特异性(PTC3-RET驱动的Baf3细胞,IC50值为34±4 nmol/L)。AST 487也具有抗FLT3活性,在较小程度上也抑制Bcr-ABL依赖的细胞增殖。

动物实验[1]:

动物模型

雌性无胸腺裸鼠

剂量

50 mg/kg;口服给药

应用

NVP-AST487口服给药(p.o.)后剂量依赖地抑制NIH3T3-RETC634W异种移植物的生长,在大于30 mg/kg/d的剂量下引起肿瘤体积的显著减少。在最后一次治疗后6小时,分析NVP-AST487对肿瘤提取物中RET表达和磷酸化的效应。在NVP-AST487治疗动物中,肿瘤组织中RET的磷酸化明显减少,尤其是在大于30 mg/kg的剂量下。在30 mg/kg治疗组,三只肿瘤动物中的一只剂量依赖地减少RET的表达。而在50 mg/kg治疗组,所有三只肿瘤动物均显著减少RET蛋白的水平。

注意事项

请测试所有化合物在室内的溶解度,实际溶解度和理论值可能略有不同。这是由实验系统的误差引起的,属于正常现象。

References:

[1] Yu K, Toral-Barza L, Shi C, et al. Biochemical, cellular, and in vivo activity of novel ATP-competitive and selective inhibitors of the mammalian target of rapamycin[J]. Cancer research, 2009, 69(15): 6232-6240.
生物活性
描述
AST487是RET激酶的抑制剂,IC50值为0.88 μM。
靶点
RET kinase
IC50
0.88 μM
质量控制
化学结构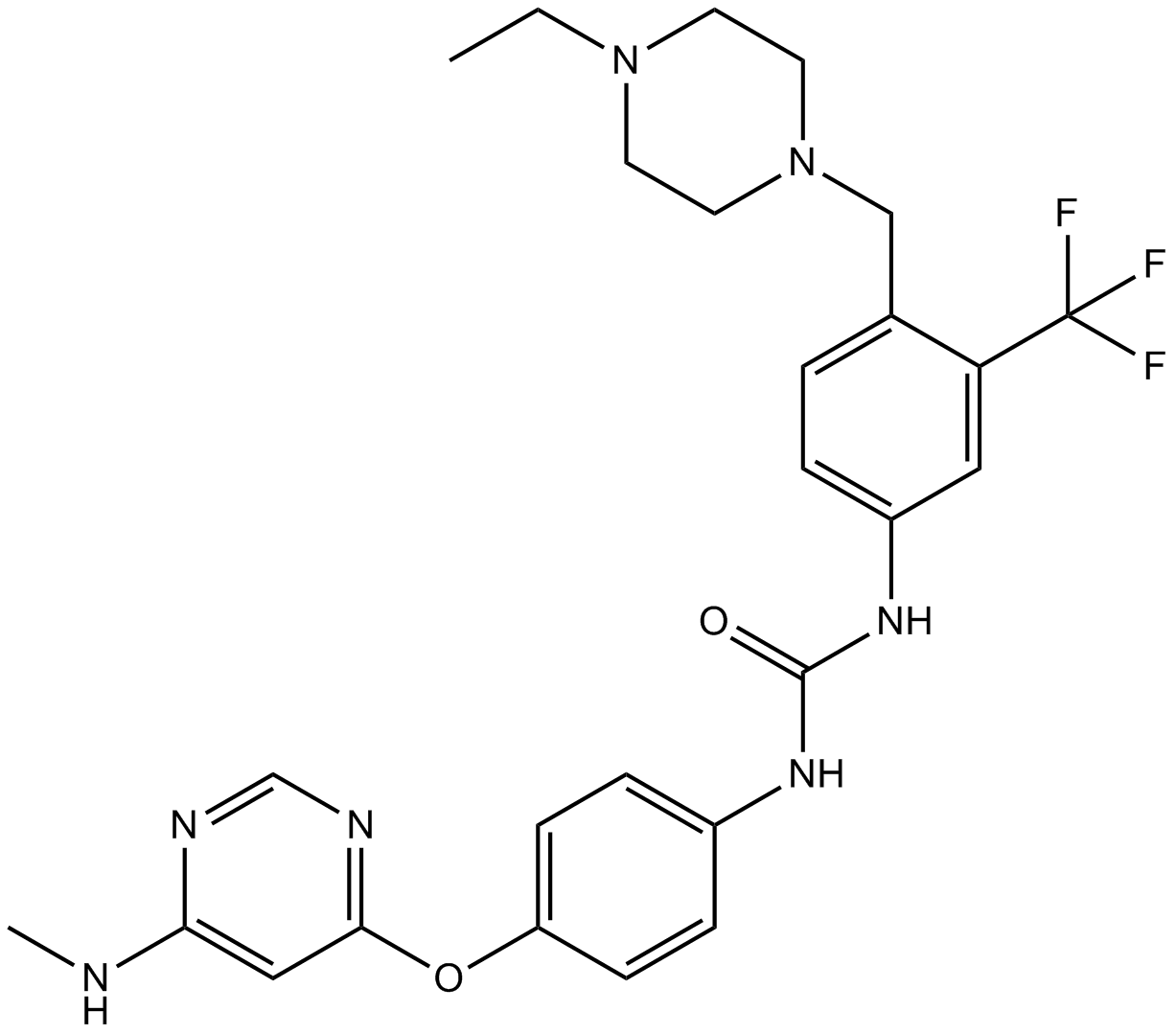 相关生物数据