Background
AR-42 (also known as OSU-HDAC42), a derivative of hydroxamate-tethered phenylbutyrate, is a novel and potent inhibitor of histone deacetylase (HDAC) that potently inhibits the activity of HDAC with 50% inhibition concentration IC50 value of 16 nM and induces histone H3 acetylation, α-tubulin acetylation and p21 up-regulation, which have been considered as the hallmark indicators of HDAC inhibition. AR-42 has been found to modulate several apoptosis inhibitors as well as cell survival regulator, including Akt, Bcl-xL, Bax, Ku70 and surviving, and exert potent antitumor activity against multiple tumor types, such as human prostate and hepatic cancers, at least partially through PI3K/Akt pathway inhibition.
Reference
Matthew L. Bush†, Janet Oblinger†, Victoria Brendel, Griffin Santarelli, Jie Huang, Elena M. Akhmametyeva, Sarah S. Burns, Justin Wheeler, Jeremy Davis, Charles W. Yates, Abhik R. Chaudhury, Samuel Kulp, Ching-Shih Chen, Long-Sheng Chang, D. Bradley Welling, and Abraham Jacob. AR42, a novel histone deacetylase inhibitor, as a potential therapy for vestibular schwannomas and meningiomas. Neuro-Oncology 13(9):983–999, 2011
Aaron M. Sargeant, Robert C. Rengel, Samuel K. Kulp, et al. OSU-HDAC42, a Histone Deacetylase Inhibitor, Blocks Prostate Tumor Progression in the Transgenic Adenocarcinoma of the Mouse Prostate Model Cancer Res 2008;68:3999-4009.
Qiang Lu, Da-Sheng Wang, Chang-Shi Chen, Yuan-Dong Hu, and Ching-Shih Chen. Structure-Based Optimization of Phenylbutyrate-Derived Histone Deacetylase
Inhibitors. J. Med. Chem. 2005, 48, 5530-5535
文献引用
Chemical Properties
| | |
| --- | --- |
| Storage | Store at -20°C |
| M.Wt | 312.36 |
| Cas No. | 935881-37-1 |
| Formula | C18H20N2O3 |
| Solubility | ≥15.62 mg/mL in DMSO, <2.2 mg/mL in EtOH, <2.34 mg/mL in H2O |
| Chemical Name | N-hydroxy-4-[[(2S)-3-methyl-2-phenylbutanoyl]amino]benzamide |
| SDF | Download SDF |
| Canonical SMILES | CC(C)C(C1=CC=CC=C1)C(=O)NC2=CC=C(C=C2)C(=O)NO |
| 运输条件 | 试用装:蓝冰运输。 其他可选规格:常温运输或根据您的要求用蓝冰运输。 |
| 一般建议 | 为了使其更好的溶解,请用37℃加热试管并在超声波水浴中震动片刻。不同厂家不同批次产品溶解度各有差异,仅做参考。若实验所需浓度过大至产品溶解极限,请添加助溶剂助溶或自行调整浓度。 |
试验操作
激酶实验 [1]:

体外HDAC试验

使用HDAC测定试剂盒分析HDAC活性。DU-145核提取物具有丰富的HDAC活性,可以使结合于链霉素琼脂糖珠的生物素化[3H]-乙酰组蛋白H4多肽脱去乙酰基。通过测量释放到上清液中的[3H]-乙酸盐计算HDAC活性。以丁酸钠 (0.25 ~ 1 mM) 为阳性对照。

细胞实验 [1]:

细胞系

DU-145细胞

制备方法

在DMSO中的溶解度大于10 mM。若配制更高浓度的溶液,一般步骤如下:请将试管置于37 °C加热10分钟和/或将其置于超声波浴中震荡一段时间。原液于-20 °C可放置数月。

反应条件

10 ~ 1000 nM;96小时

实验结果

AR-42抑制DU-145细胞生长,其IC50值为0.11 μM。

动物实验 [2]:

动物模型

皮下接种PC-3细胞的雄性NCr无胸腺裸鼠

给药剂量

25 mg/kg,每日1次,或50 mg/kg,每日1次,隔天给药;口服给药,持续28天

实验结果

在剂量为25 mg和50 mg下,AR-42抑制PC-3肿瘤异种移植物生长(分别为52%和67%)。

其它注意事项

请于室内测试所有化合物的溶解度。虽然化合物的实际溶解度可能与其理论值略有不同,但仍处于实验系统误差的允许范围内。

References:

[1]. Lu Q, Wang DS, Chen CS, Hu YD, Chen CS. Structure-based optimization of phenylbutyrate-derived histone deacetylase inhibitors. J Med Chem. 2005 Aug 25;48(17):5530-5.

[2]. Kulp SK, Chen CS, Wang DS, Chen CY, Chen CS. Antitumor effects of a novel phenylbutyrate-based histone deacetylase inhibitor, (S)-HDAC-42, in prostate cancer. Clin Cancer Res. 2006 Sep 1;12(17):5199-206.
生物活性
描述
AR-42是HDAC的抑制剂,IC50值为30 nM。
靶点
HDAC
IC50
30 nM
质量控制
化学结构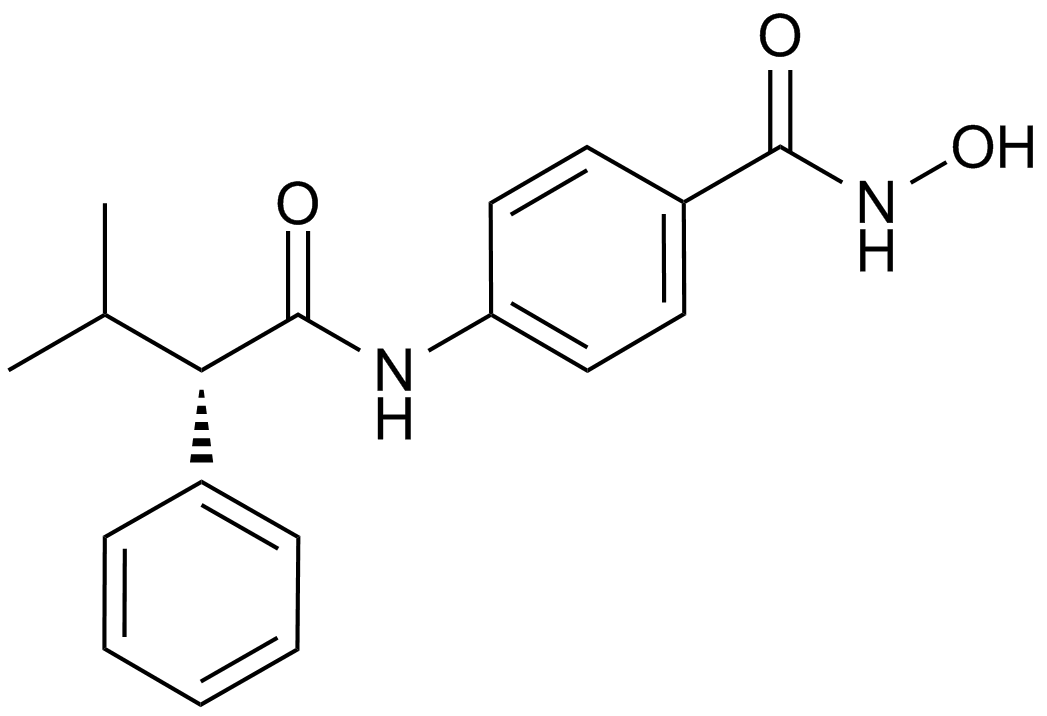 相关生物数据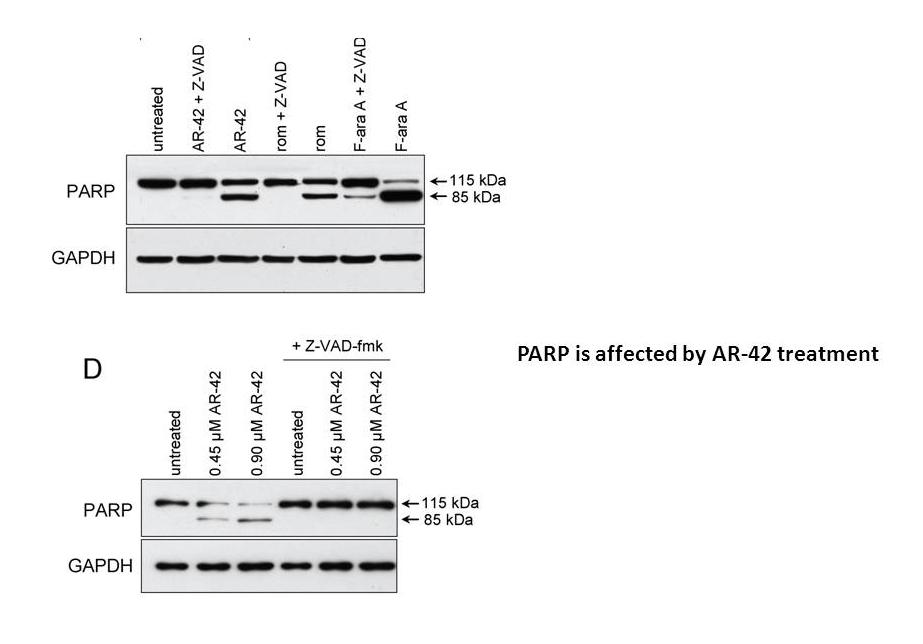 相关生物数据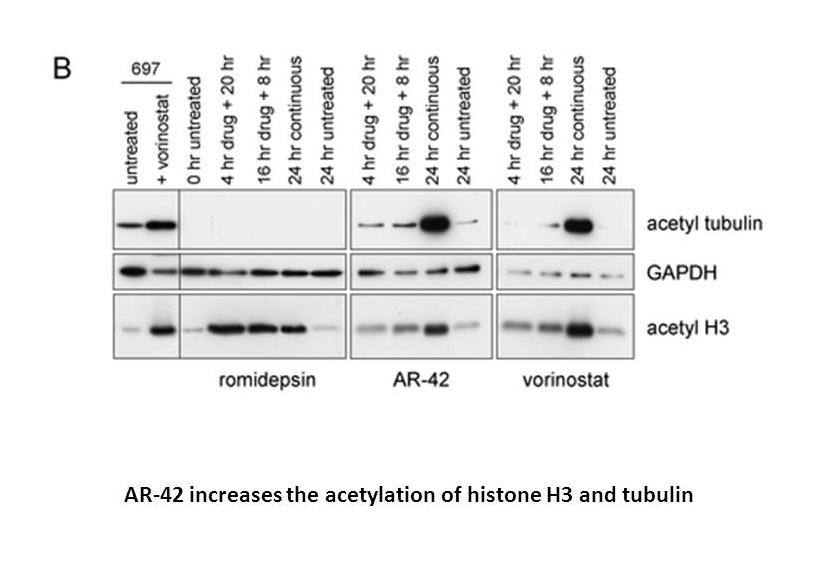 相关生物数据