Background
Met-Leu-Gly-Ile-Ile-Ala-Gly-Lys-Asn-Ser-Gly
Amyloid- β (Aβ) peptide is commonly found in human Alzheimer's disease (AD) brain and is the main component of Alzheimer amyloid plaques. The predominant forms of Aβ in the human brain are Aβ (1-40) and Aβ (1-42).  However, the Aβ (25-35) fragment, which is physiologically present in elderly people, is the more toxic region and has recently been found to play a relevant role in AD due to its peculiar aggregation properties1.
Aβ (25-35) is regarded to be the functional domain of Aβ, responsible for its neurotoxic properties2-5.  It represents the actual biologically active region of Aβ6. Administration of Aβ (25-35) has been shown to lead to amnesia in mice, causing impairments of spatial working memory along with the degradation of passive avoidance reactions2-5.
In vivo, Aβ (25-35) is present in neurons of subiculum and entorhinal cortex of AD brains7.  It is also observed in Inclusion-Body Myositis (IBM) muscle8.
Figure1. Structure of Amyloid β-Peptide
Figure2. Formula of Amyloid β-Peptide (25-35) (human)
C45H81N13O14S
Ref:
1. Millucci L, Ghezzi L, Bernardini G, Santucci A (2010) Conformations and biological activities of amyloid beta peptide 25–35. Curr Protein Pept Sc 11: 54–67.
2. Stepanichev, M.Y.; Moiseeva, Y.V.; Lazareva, N.A.; Gulyaeva,N.V. Studies of the effects of fragment (25-35) of beta-amyloid peptide on the behavior of rats in a radial maze. Neurosci. Behav. Physiol., 2005, 35(5), 511-8.
3. Limón, I.D.; Díaz, A.; Mendieta. L.; Chamorro, G.; Espinosa, B.; Zenteno, E.; Guevara, J. Amyloid-beta(25-35) impairs memory and increases NO in the temporal cortex of rats. Neurosci. Res., 2009,63(2), 129-137.
4. Pike, C. J.; Burdick, D.; Walencewicz, A. J.; Glabe, C. G.; Cotman, C. W. Neurodegeneration induced by beta-amyloid peptides in vitro: the role of peptide assembly state. J. Neurosci., 1993, 13, 1676-1687.
5. Stepanichev, M.Yu; Lazareva N.A.; Onufriev, M.V.; Mitrokhina, O.S.; Moiseeva, Yu.V.; Gulyaeva, N.V. Effects of doses of fragment (25-35) of beta-amyloid peptide on behavior in rats. Neurosci. Behav. Physiol., 1998, 28(5), 564-6 .
6. D'Errico, G.; Vitiello, G.; Ortona, O.; Tedeschi, A.; Ramunno, A. and D'Ursi, A.M. Interaction between Alzheimer's A(25-35) peptide and phospholipid bilayers: The role of cholesterol. Biochimica. Biophys. Acta (BBA) – Biomembr., 2008, 1778, 2710-2716.
7. Kaneko, I.; Yamada, N.; Usui, Y.; Oda, T. Possible involvement of β -amyloids racemized at Ser residue in Alzheimer's disease. Alzheimer's Disease: Biology, Diagnose and Therapeutics. John Wiley & Sons: Chichester, 1997, pp. 519-528.
8. Kaneko, I.; Kubo, T.; Morimoto, K.; Kumagae, Y.; Miller, C.A. Ananimal model for Alzheimer's disease using racemic
文献引用
Chemical Properties
| | |
| --- | --- |
| Physical Appearance | A solid |
| Storage | Desiccate at -20°C |
| M.Wt | 1060.27 |
| Cas No. | 131602-53-4 |
| Formula | C45H81N13O14S |
| Synonyms | Gly-Ser-Asn-Lys-Gly-Ala-Ile-Ile-Gly-Leu-Met |
| Solubility | ≥106mg/mL in DMSO |
| Chemical Name | Amyloid Beta-peptide (25-35) (human) |
| SDF | Download SDF |
| Canonical SMILES | CCC(C)C(C(=O)NC(C(C)CC)C(=O)NCC(=O)NC(CC(C)C)C(=O)NC(CCSC)C(=O)O)NC(=O)C(C)NC(=O)CNC(=O)C(CCCCN)NC(=O)C(CC(=O)N)NC(=O)C(CO)NC(=O)CN |
| 运输条件 | 试用装:蓝冰运输。 其他可选规格:常温运输或根据您的要求用蓝冰运输。 |
| 一般建议 | 为了使其更好的溶解,请用37℃加热试管并在超声波水浴中震动片刻。不同厂家不同批次产品溶解度各有差异,仅做参考。若实验所需浓度过大至产品溶解极限,请添加助溶剂助溶或自行调整浓度。 |
试验操作
细胞实验 [1]:

细胞系

胚胎大鼠海马细胞

溶解方法

Aβ (25-35)在无菌水中的溶解度大于10 mM。原液需分装并保存在-80°C,可保存数月。

反应时间

20 μM, 6小时

实验结果

为了研究tau磷酸化激酶在Aβ(25-35)诱导的tau磷酸化中的作用,测定Aβ(25-35)(20μM)不同时期处理后各个激酶的水平。Aβ(25-35)处理后,GSK-3α的水平没有明显变化,Aβ(25-35)处理6小时后,tau的磷酸化达到最大值,MAP激酶降低至对照组的60%。Aβ(25-35)处理后,TPK I/GSK-3β的含量快速增加,处理6小时后TPK I/GSK-3β达到最大值,含量为对照组的2.2倍。

动物实验 [2]:

动物模型

雄性Charles River Wistar大鼠

剂量

腹腔内注射, 400 mg/kg

实验结果

Aβ(25-35)注射一周后,检测到基础Ach释放的统计学显著降低,大约为28%。药物效果仅持续两周。Aβ(25-35)处理对K+刺激的ACh释放产生相似的影响。损伤后第14天使用Aβ(25-35)治疗诱导统计学显著的刺激释放降低,约为 45%。

注意事项

请测试所有化合物在室内的溶解度,实际溶解度和理论值可能略有不同。这是由实验系统的误差引起的,属于正常现象。

References:

[1] Takashima A, Honda T, Yasutake K, et al. Activation of tau protein kinase I/glycogen synthase kinase-3 β by amyloid β peptide (25–35) enhances phosphorylation of tau in hippocampal neurons. Neuroscience research, 1998, 31(4): 317-323.

[2] Giovannelli L, Casamenti F, Scali C, et al. Differential effects of amyloid peptides β-(1–40) and β-(25–35) injections into the rat nucleus basalis. Neuroscience, 1995, 66(4): 781-792.
质量控制
化学结构
相关生物数据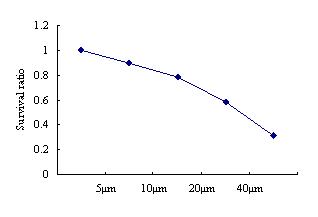 Aβ (25-35) treatment inhibited the cell survival rate in a dose-dependent manner.
Method:MTT assay; Cell Lines:SH-SY5Y cells; Concentrations:5-40 μM; Incubation Time:24 h.
相关生物数据