Background
Target: FFA4/GPR120
IC50: N/A
AH7614 is a selective and potent free fatty acid receptor 4 (FFA4/GPR120) antagonist with pIC50 values of 7.1, 8.1 and 8.1 at the human, mouse and rat receptor, respectively [1]. The free fatty acid receptor 4 (FFA4/GPR120), a member of the G protein-coupled receptor family, is a potential 7TM receptor involved in long-chain fatty acid-stimulated glucagon-like peptide-1 (GLP-1) secretion. FFA4 is highly expressed in the intestinal endocrine cell line STC-1 and the intestine. GLP-1 regulates multiple physiological functions including eating behavior [2].
In vitro: AH7614 (0.063, 0.25, and 1μM) blocked linoleic acid and GSK137647A-induced intracellular calcium increase in U2OS osteosarcoma cells expressing the FFA4 receptor [1]. In addition, the increase of glucose-stimulated insulin secretion by GSK137647A (50 μM) was abolished in the presence of the selective FFA4 antagonist AH7614 (100 μM) in the MIN6 mouse insulinoma cell line. Moreover, AH7614 (100 μM) blocked GSK137647A (100μM)-mediated a modest increase of GLP-1 secretion in the NCIH716 cells [1].
In vivo: N/A
References:
1.  Sparks SM, Chen G, Collins JL, Danger D, Dock ST, Jayawickreme C, et al. Identification of diarylsulfonamides as agonists of the free fatty acid receptor 4 (FFA4/GPR120). Bioorg Med Chem Lett. 2014;24(14):3100-3.
2.  Martin C, Passilly-Degrace P, Chevrot M, Ancel D, Sparks SM, Drucker DJ, et al. Lipid-mediated release of GLP-1 by mouse taste buds from circumvallate papillae: putative involvement of GPR120 and impact on taste sensitivity. J Lipid Res. 2012;53(11):2256-65.
文献引用
Chemical Properties
| | |
| --- | --- |
| Physical Appearance | A crystalline solid |
| Storage | Store at -20°C |
| M.Wt | 351.42 |
| Cas No. | 6326-06-3 |
| Formula | C20H17NO3S |
| Solubility | ≥35.1mg/mL in DMSO |
| Chemical Name | 4-methyl-N-(9H-xanthen-9-yl)benzenesulfonamide |
| SDF | Download SDF |
| Canonical SMILES | O=S(NC1C2=C(C=CC=C2)OC3=CC=CC=C31)(C4=CC=C(C)C=C4)=O |
| 运输条件 | 试用装:蓝冰运输。 其他可选规格:常温运输或根据您的要求用蓝冰运输。 |
| 一般建议 | 为了使其更好的溶解,请用37℃加热试管并在超声波水浴中震动片刻。不同厂家不同批次产品溶解度各有差异,仅做参考。若实验所需浓度过大至产品溶解极限,请添加助溶剂助溶或自行调整浓度。 |
试验操作
细胞实验[1]:

细胞系

Flp-In T-REx 293细胞

溶解方法

在DMSO中的溶解度> 10 mM。为了获得更高浓度,可以将离心管在37℃加热10分钟和/或在超声波浴中震荡一段时间。原液可以在-20℃以下储存几个月。

反应条件

10-10 ~10-5 M,15分钟

应用

AH-7614可以强效和浓度依赖的方式抑制表达hFFA4-eYFP的Flp-In T-REx 293细胞中由ω-3脂肪酸aLA引发的Ca2 +动员的能力。作为FFA4的拮抗剂,AH-7614能够阻断多不饱和ω-6脂肪酸亚油酸的作用。

References:

[1] Watterson KR, Hansen SVF, Hudson BD, et al. Probe-Dependent Negative Allosteric Modulators of the Long-Chain Free Fatty Acid Receptor FFA4. Mol Pharmacol. 2017 Jun;91(6):630-641.
质量控制
化学结构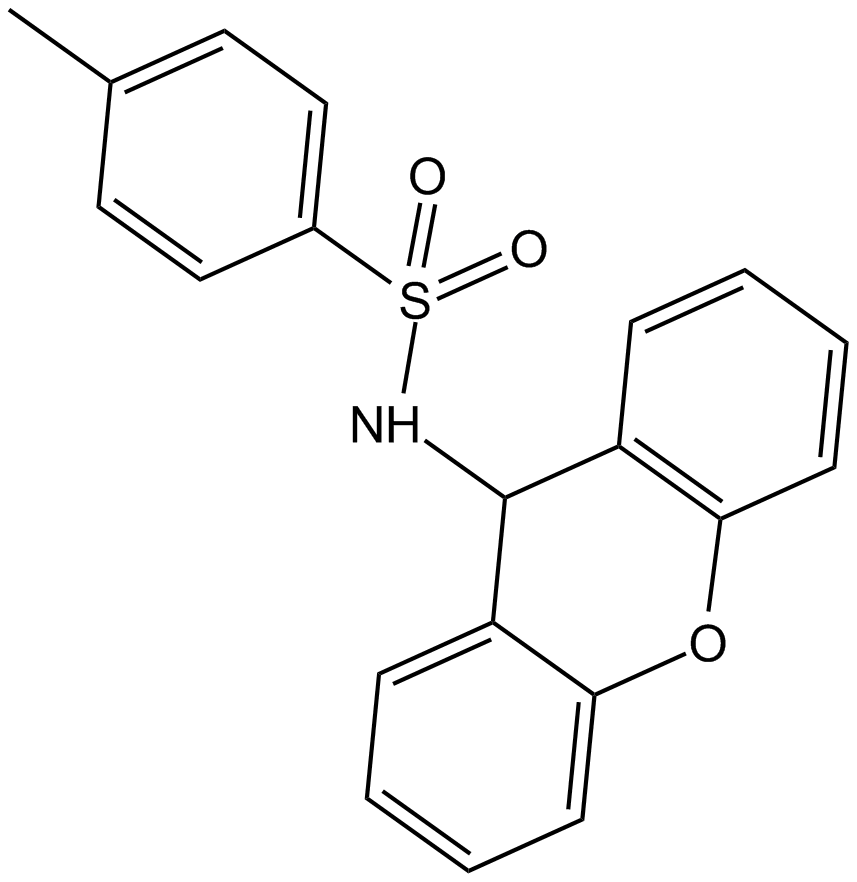 相关生物数据