Background
Afatinib (BIBW2992), an irreversible inhibitor of the ErbB family of tyrosine kinases, downregulates ErbB signalling by binding to the kinase domains of epidermal growth factor receptor (EGFR)/ human epidermal growth factor receptor 2 (HER2) with IC50 of 0.5 nM and 14nM, respectively.
The ErbB receptor tyrosine kinase family consists of four cell surface receptors: ErbB1/ EGFR/HER1, ErbB2/HER2, ErbB3/HER3, and ErbB4/HER4. It has been shown that EGFR and HER2 play important roles in the development and progression of certain aggressive types of cancers and inflammation-associated diseases.
Afatinib was shown to suppress EGF-induced phosphorylation of EGFR and cell proliferation in a variety of EGFR-overexpressing and HER2-expressing cell lines such as A431, NIH-3T3-HER2, NCI-N87 and BT-474 [1].
The component has also been used extensively in various animal models to study the role of EGFR/HER2. Oral administration of afatinib inhibited cancer cell growth and survival and suppress the tumor regression in xenograft and transgenic lung cancer models [2]. In addition, afatinib is identified as EGFR blocker which was approved for the treatment of patients with EGFR-mutated nonsmall cell lung cancer [3].
References:
1.Eskens FA, Mom CH, Planting AS, Gietema JA, Amelsberg A, Huisman H, et al. A phase I dose escalation study of BIBW 2992, an irreversible dual inhibitor of epidermal growth factor receptor 1 (EGFR) and 2 (HER2) tyrosine kinase in a 2-week on, 2-week off schedule in patients with advanced solid tumours. Br J Cancer 2008,98:80-85.
2.Li D, Ambrogio L, Shimamura T, Kubo S, Takahashi M, Chirieac LR, et al. BIBW2992, an irreversible EGFR/HER2 inhibitor highly effective in preclinical lung cancer models. Oncogene 2008,27:4702-4711.
3.Engle JA, Kolesar JM. Afatinib: A first-line treatment for selected patients with metastatic non-small-cell lung cancer. Am J Health Syst Pharm 2014,71:1933-1938.
文献引用
Chemical Properties
| | |
| --- | --- |
| Physical Appearance | A solid |
| Storage | Store at -20°C |
| M.Wt | 485.94 |
| Cas No. | 439081-18-2 |
| Formula | C24H25ClFN5O3 |
| Solubility | ≥24.3mg/mL in DMSO, ≥42.1 mg/mL in EtOH with ultrasonic, <2.25 mg/mL in H2O |
| Chemical Name | (E)-N-[4-(3-chloro-4-fluoroanilino)-7-[(3S)-oxolan-3-yl]oxyquinazolin-6-yl]-4-(dimethylamino)but-2-enamide |
| SDF | Download SDF |
| Canonical SMILES | CN(C)CC=CC(=O)NC1=C(C=C2C(=C1)C(=NC=N2)NC3=CC(=C(C=C3)F)Cl)OC4CCOC4 |
| 运输条件 | 试用装:蓝冰运输。 其他可选规格:常温运输或根据您的要求用蓝冰运输。 |
| 一般建议 | 为了使其更好的溶解,请用37℃加热试管并在超声波水浴中震动片刻。不同厂家不同批次产品溶解度各有差异,仅做参考。若实验所需浓度过大至产品溶解极限,请添加助溶剂助溶或自行调整浓度。 |
试验操作
细胞实验: [1]

细胞系

NCI-H1975和 BT474细胞

制备方法

该化合物在DMSO中的溶解度大于10 mM,若配制更高浓度的溶液,一般步骤如下:请将试管置于37℃加热10分钟和/或将其置于超声波浴中震荡一段时间。原液于-20℃可放置数月。

反应条件

EC50:92 nM for NCI-H1975细胞,54 nM for BT474 细胞;96 hours

实验结果

在各种实验形式中测定抑制剂对细胞增殖的影响,包括贴壁依赖的(在塑料上生长的BT474细胞;二维测定)和非贴壁依赖性(在软琼脂中生长的NCI-H1975细胞;三维测定)。Afatinib以剂量依赖性的方式抑制细胞增殖并显示出纳摩尔活性。NCI-H1975和BT474细胞的EC50值分别为92 nM和54 nM。

动物实验: [2]

动物模型

表达delE748-A752小鼠Egfr和L858R人EGFR的转基因小鼠

给药剂量

口服,5 mg/kg,每天一次,每周五天

实验结果

转基因小鼠接受药物的口服给药,直到产生毒性或死亡。对照组中的所有小鼠死亡,存活时间平均值为119天。Afatinib显著增强转基因小鼠的存活,平均存活时间为456天。在任何小鼠中没有观察到毒性死亡现象。治疗开始4周后,对照组的体重显著低于afatinib组。

注意事项

请于室内测试所有化合物的溶解度。虽然化合物的实际溶解度可能与其理论值略有不同,但仍处于实验系统误差的允许范围内。

References:

[1] Solca F, Dahl G, Zoephel A, et al. Target binding properties and cellular activity of afatinib (BIBW 2992), an irreversible ErbB family blocker. Journal of Pharmacology and Experimental Therapeutics, 2012, 343(2): 342-350.

[2] Ninomiya T, Takigawa N, Ichihara E, et al. Afatinib prolongs survival compared with gefitinib in an epidermal growth factor receptor-driven lung cancer model. Molecular cancer therapeutics, 2013, 12(5): 589-597.
生物活性
描述
生物学活性
靶点
EGFRwt
EGFRL858R
EGFR L858R/T790M
HER2
IC50
0.5 nM
0.4 nM
10 nM
14 nM
质量控制
化学结构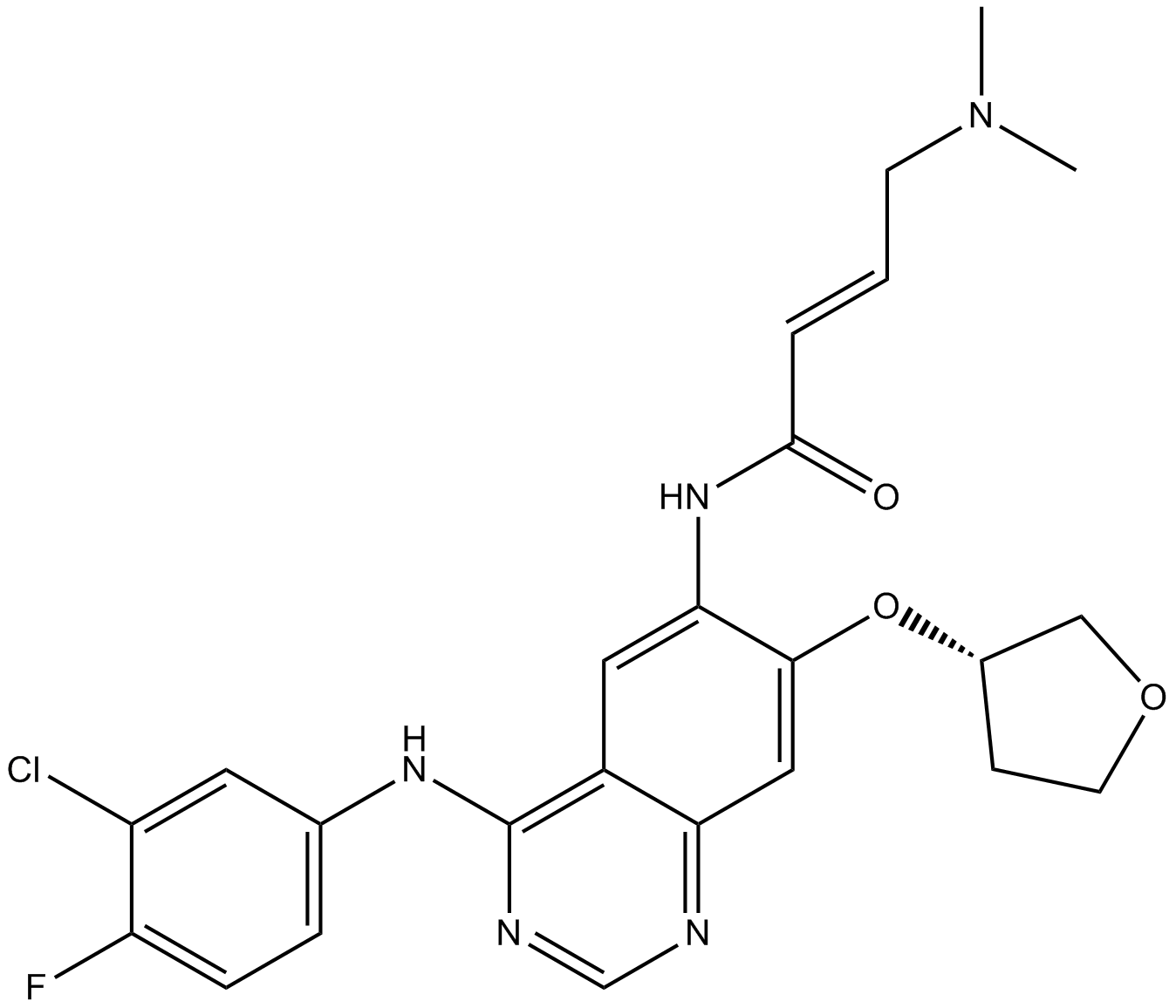 相关生物数据
相关生物数据
相关生物数据