ABT-263 (Navitoclax)
Bcl-2家族抑制剂,可以抑制Bcl-2、 Bcl-xL和Bcl-w。
Sample solution is provided at 25 µL, 10mM.
质量控制
化学结构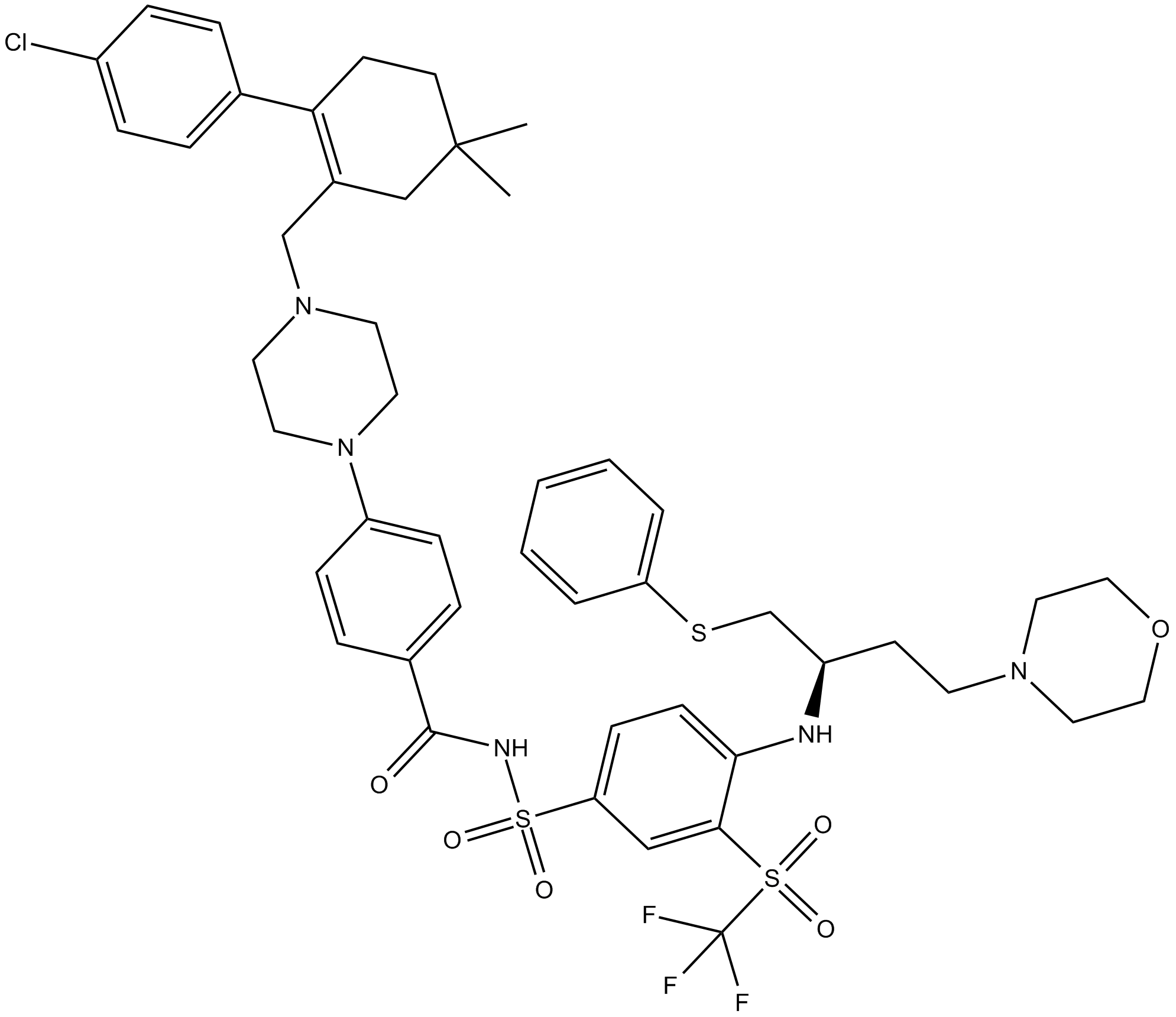 相关生物数据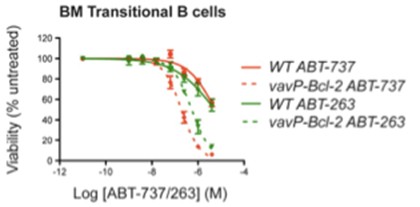 ABT-737, or ABT-263 at the indicated doses for 24 hours. Survival data are shown for transitional B cells (n = 3 mice for each genotype) and are the results of 3 independent experiments, each performed in triplicate. Experiments depicted in panels C and D were performed concurrently. Values represent mean ± SEM.
相关生物数据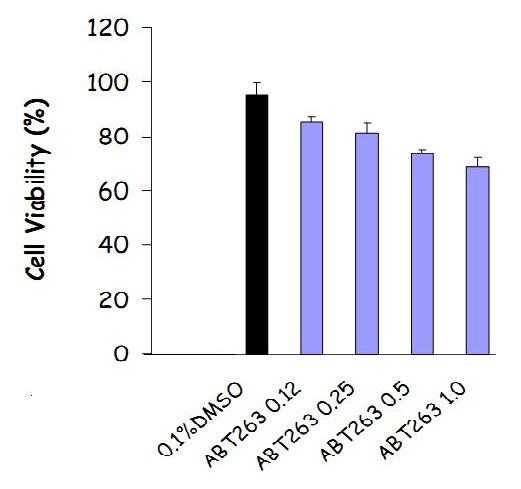 As an inhibitor of Bcl-2, ABT263 is effective to reduce cell viability in HG3-CLL cells. Incubating the cells with ABT263 in 96 well plates (3×104 cells per well) for 24h shows a dose-dependent inhibition of cell viability with EC50 value of 2μM.[Source: Istituto di Scienze dell'Alimentazione]
相关生物数据
相关生物数据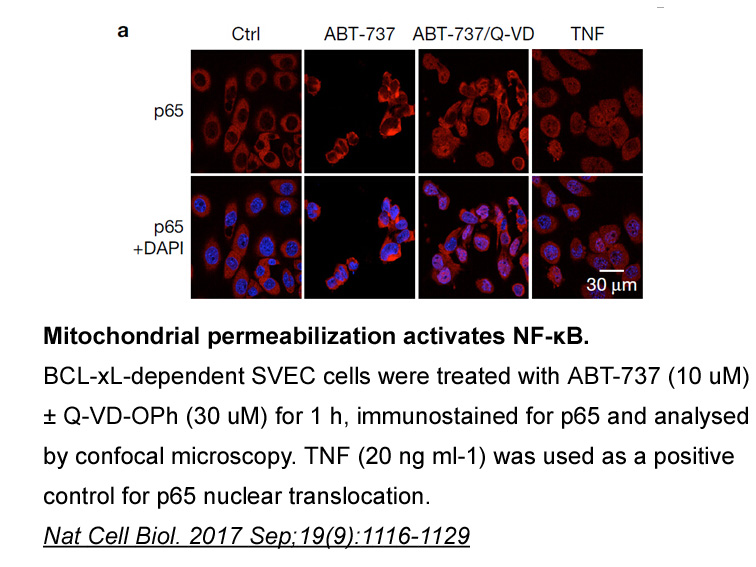 相关生物数据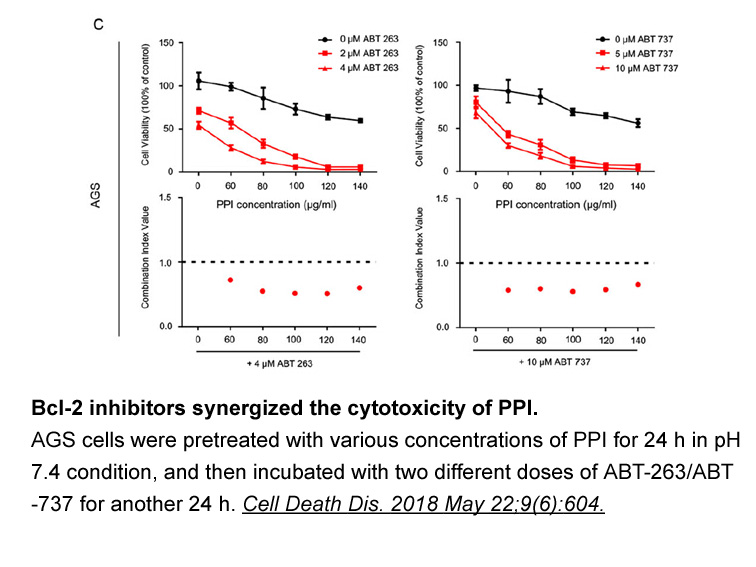 相关生物数据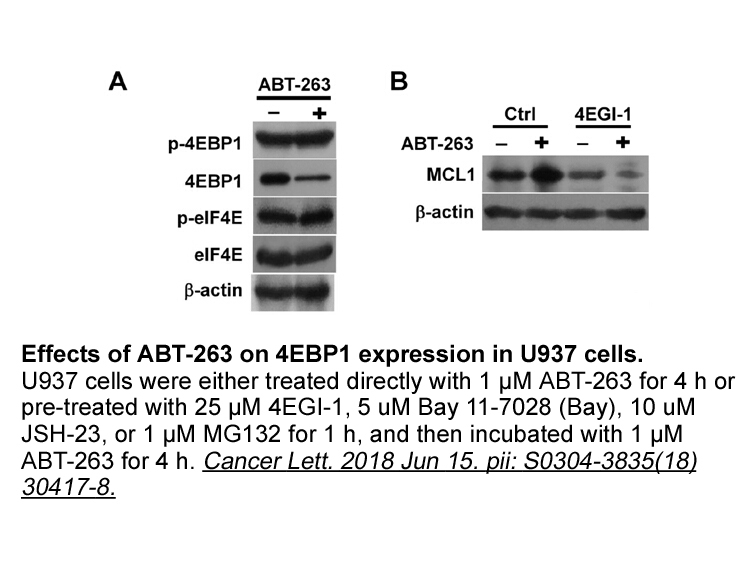 相关生物数据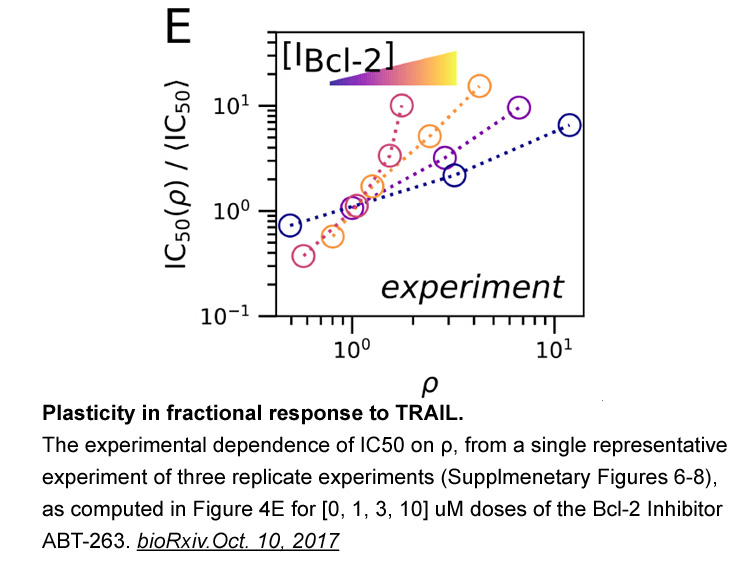 化学性质
CAS号
923564-51-6
SDF
Download SDF
别名
Navitoclax,ABT-263,ABT263,ABT 263
化学名
(R)-4-(4-((4'-chloro-4,4-dimethyl-3,4,5,6-tetrahydro-[1,1'-biphenyl]-2-yl)methyl)piperazin-1-yl)-N-((4-((4-morpholino-1-(phenylthio)butan-2-yl)amino)-3-((trifluoromethyl)sulfonyl)phenyl)sulfonyl)benzamide
SMILES
CC(CC1)(C)CC(CN2CCN(C3=CC=C(C(NS(C4=CC=C(N[C@@H](CSC5=CC=CC=C5)CCN6CCOCC6)C(S(C(F)(F)F)(=O)=O)=C4)(=O)=O)=O)C=C3)CC2)=C1C7=CC=C(Cl)C=C7
分子式
C47H55ClF3N5O6S3
分子量

974.61

溶解性
>48.7mg/mL in DMSO
储存条件
Desiccate at -20°C
运输条件
试用装:蓝冰运输。
其他可选规格:常温运输或根据您的要求用蓝冰运输。
一般建议
为了使其更好的溶解,请用37℃加热试管并在超声波水浴中震动片刻。不同厂家不同批次产品溶解度各有差异,仅做参考。若实验所需浓度过大至产品溶解极限,请添加助溶剂助溶或自行调整浓度。
生物活性
ABT-263 (Navitoclax)是Bcl-xL、 Bcl-2和Bcl-w的抑制剂,Ki值分别为Ki≤ 0.5 nM、≤1 nM 和≤1 nM。.
靶点
Bcl-xL
Bcl-2
Bcl-w
IC50
≤ 0.5 nM (Ki)
≤1 nM (Ki)
≤ 1 nM (Ki)
实验操作
细胞实验[1]:

细胞系

表达小鼠Bcl-2、Bcl-xL和Bcl-w蛋白的小鼠DO11.10 T杂交瘤细胞

溶解方法

在DMSO中的溶解度>10 mM。为了获得更高的浓度,可以将离心管在37℃加热10分钟和/或在超声波浴中震荡一段时间。原液可以在-20℃以下储存几个月。

反应条件

N/A

应用

在临床前和早期临床研究中,ABT-263具有抗肿瘤效应。在体外,ABT-263与Bcl-2、Bcl-xL和Bcl-w结合,在体内仅靶向结合Bcl-2。在人非霍奇金(non-Hodgkin)淋巴瘤中,ABT-263抑制Bcl-2的高表达,从而提高促凋亡蛋白Bim的水平。

动物实验[2]:

动物模型

免疫缺陷NOD/SCID或NOD/SCID,ILγ受体阴性小鼠

剂量

100 mg/kg/day,21天;口服给药

应用

ABT-263可以很大程度上抑制患者来源的小儿急性淋巴细胞白血病异种移植物的活性。ABT-263的敏感性与MCL1 mRNA的低表达水平相关。BH3分析表明,ABT-263的耐受性与NOXA肽引发的线粒体启动相关。

注意事项

请测试所有化合物在室内的溶解度,实际溶解度和理论值可能略有不同。这是由实验系统的误差引起的,属于正常现象。

References:

1. Mérino D1, Khaw SL, Glaser SP et al. Bcl-2, Bcl-x(L), and Bcl-w are not equivalent targets of ABT-737 and navitoclax (ABT-263) in lymphoid and leukemic cells.Blood. 2012 Jun 14;119(24):5807-16.

2. Suryani S, Carol H, Chonghaile TN et al. Cell and Molecular Determinants of In Vivo Efficacy of the BH3 Mimetic ABT-263 against Pediatric Acute Lymphoblastic Leukemia Xenografts. Clin Cancer Res. 2014 Jul 10.
View Related Products By Research Topics
产品描述
ABT-263是一种可口服的选择性Bcl-2家族小分子抑制剂,具有潜在的抗肿瘤活性。其分子式为C47H55ClF3N5O6S3,分子量为974。ABT-263与Bcl-2家族蛋白Bcl-2、Bcl-xl和Bcl-w相结合,干扰Bcl-2/Bcl-xl /Bcl-w与促凋亡蛋白Bim、Bad 和Bak的相互作用,从而启动caspases介导的细胞死亡途径,诱导细胞凋亡。
参考文献:
1. Tse et al., ABT-263: A Potent and Orally Bioavailable Bcl-2 Family Inhibitor. Cancer Res. 2008, 68, 3421-3428.
2. Shoemaker et al., Activity of the Bcl-2 Family Inhibitor ABT-263 in a Panel of Small Cell Lung Cancer Xenograft Models. Clin. Cancer Res. 2008, 14, 3268-3277