Background
5-Azacytidine (also known as 5-AzaC), a compound belonging to a class of cytosine analogues, is a DNA methyl transferase (DNMT) inhibitor that exerts potent cytotoxicity against multiple myeloma (MM) cells, including MM.1S, MM.1R, RPMI-8266, RPMI-LR5, RPMI-Dox40 and Patient-derived MM, with the half maximal inhibition concentration IC50 values of 1.5 μmol/L, 0.7 μmol/L, 1.1 μmol/L, 2.5 μmol/L, 3.2 μmol/L and 1.5 μmol/L respectively [1].
5-Azacytidine incorporates into cellular DNA and/or RNA, subsequently sequesters DNMT and forms a covalent bond between C6 of 5-Azacytidine and cysteine thiolate of DNMTs resulting in depletion of DNMT activity in cells and demethylation of cellular DNA [1].
References:
[1] Kiziltepe T, Hideshima T, Catley L, Raje N, Yasui H, Shiraishi N, Okawa Y, Ikeda H, Vallet S, Pozzi S, Ishitsuka K, Ocio EM, Chauhan D, Anderson KC. 5-Azacytidine, a DNA methyltransferase inhibitor, induces ATR-mediated DNA double-strand break responses, apoptosis, and synergistic cytotoxicity with doxorubicin and bortezomib against multiple myeloma cells. Mol Cancer Ther. 2007 Jun;6(6):1718-27.
文献引用
Chemical Properties
| | |
| --- | --- |
| Physical Appearance | A solid |
| Storage | Store at -20°C |
| M.Wt | 244.2 |
| Cas No. | 320-67-2 |
| Formula | C8H12N4O5 |
| Solubility | ≥12.21mg/mL in DMSO |
| Chemical Name | 4-amino-1-[(2R,3R,4S,5R)-3,4-dihydroxy-5-(hydroxymethyl)oxolan-2-yl]-1,3,5-triazin-2-one |
| SDF | Download SDF |
| Canonical SMILES | C1=NC(=NC(=O)N1C2C(C(C(O2)CO)O)O)N |
| 运输条件 | 试用装:蓝冰运输。 其他可选规格:常温运输或根据您的要求用蓝冰运输。 |
| 一般建议 | 为了使其更好的溶解,请用37℃加热试管并在超声波水浴中震动片刻。不同厂家不同批次产品溶解度各有差异,仅做参考。若实验所需浓度过大至产品溶解极限,请添加助溶剂助溶或自行调整浓度。 |
试验操作
细胞实验 [1]:

细胞系

白血病L1210细胞

制备方法

在DMSO中的溶解度大于12.2 mg/mL。若配制更高浓度的溶液,一般步骤如下:请将试管置于37 °C加热10分钟和/或将其置于超声波浴中震荡一段时间。原液于-20 °C可放置数月。

反应条件

80 μM;0 ~ 120分钟

实验结果

在白血病L1210细胞中,相对于RNA合成,5-Azacytidine对DNA合成的抑制作用更大。经过90分钟预孵育后,TdR-3H掺入被抑制了约74%,而UR-3H掺入被抑制了仅仅32%。

动物实验 [2]:

动物模型

携带淋巴性白血病L1210细胞的BDF1小鼠

给药剂量

3 mg/kg;腹腔注射;每天1次

实验结果

在携带淋巴性白血病L1210细胞的BDF1小鼠中,5-Azacytidine增加了平均存活时间。此外,5-Azacytidine显著抑制多胺生物合成途径中的所有酶的活性。此外,5-Azacytidine抑制多胺在白血病小鼠中的积累。

注意事项

请于室内测试所有化合物的溶解度。虽然化合物的实际溶解度可能与其理论值略有不同,但仍处于实验系统误差的允许范围内。

References:

[1]. Li LH, Olin EJ, Buskirk HH, Reineke LM. Cytotoxicity and mode of action of 5-azacytidine on L1210 leukemia. Cancer Res. 1970 Nov;30(11):2760-9.

[2]. Heby O, Russell DH. Depression of polyamine synthesis in L1210 leukemic mice during treatment with a potent antileukemic agent, 5-azacytidine. Cancer Res. 1973 Jan;33(1):159-65.
生物活性
Description
5-Azacytidine是DNA甲基转移酶的抑制剂。
靶点
DNA methyltransferase
IC50
质量控制
化学结构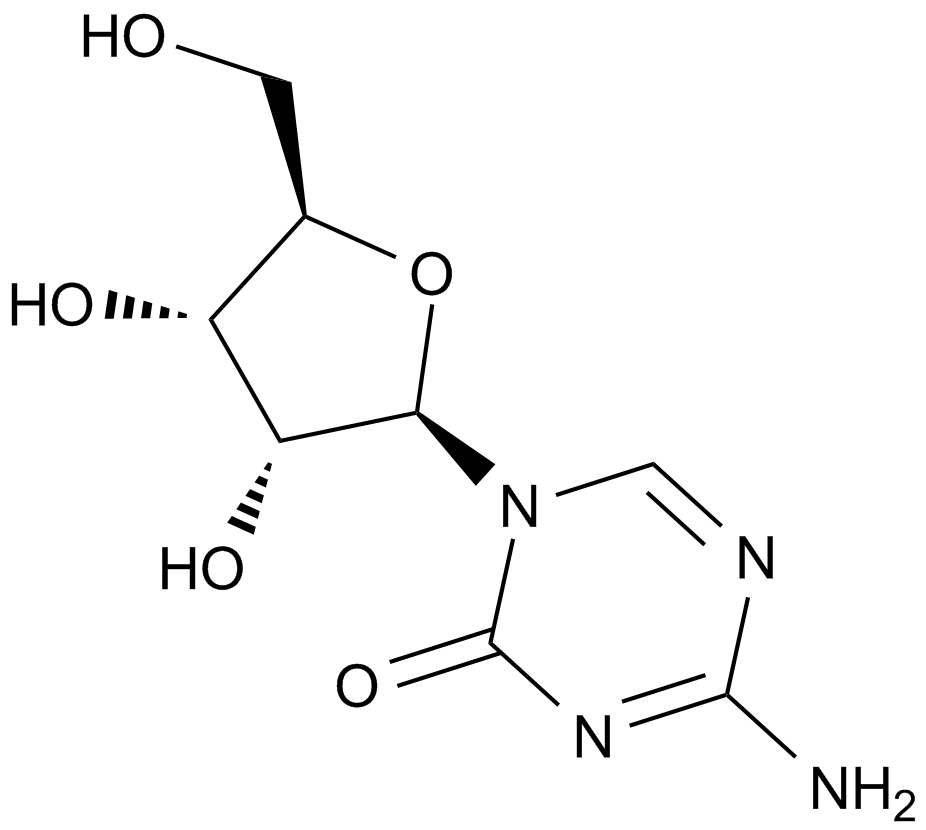 相关生物数据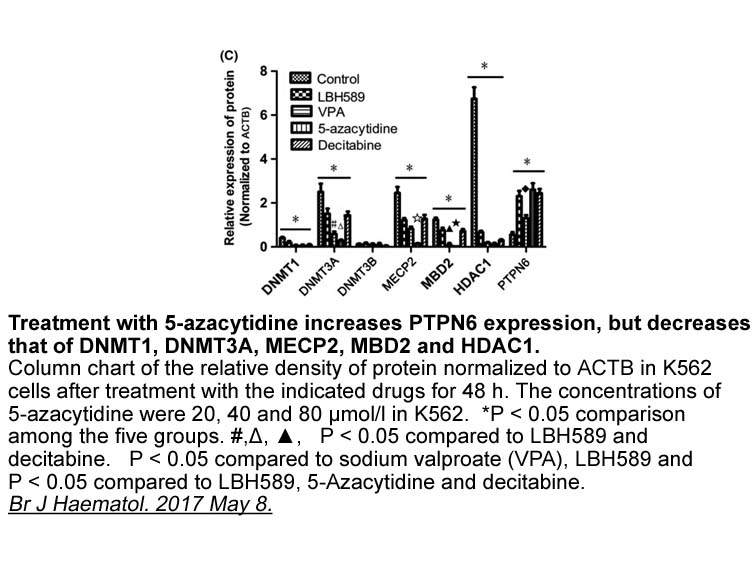 相关生物数据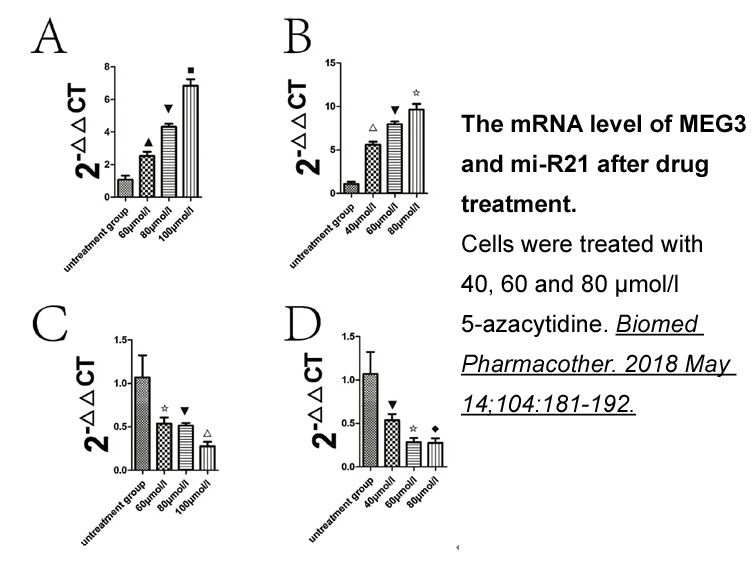 相关生物数据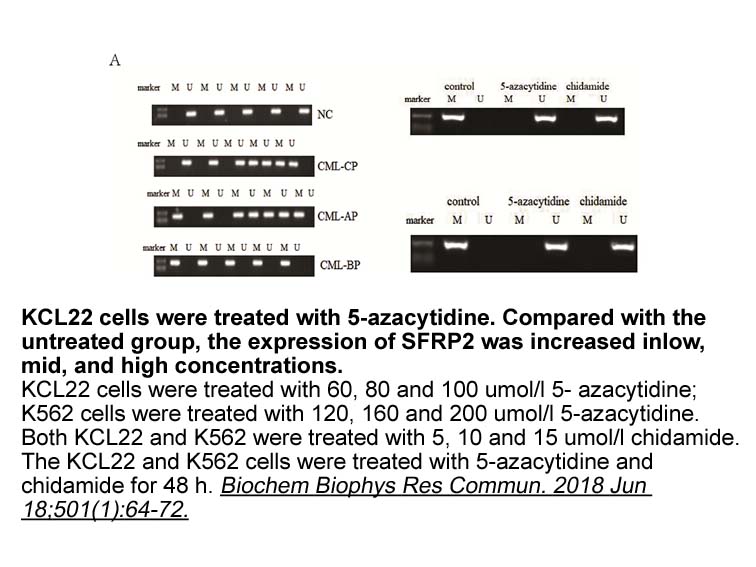 相关生物数据