Background
17-AAG is a potent inhibitor of HSP90 with IC50 value of 6 nM in BT474 cells [1].
17-AAG is a synthetic analogue developed from geldanamycin which was found to have significant hepatic toxicity. 17-AAG has an improved toxicity profile and has no hepatic toxicity. 17-AAG can bind to HSP90 and destabilize the client proteins such as HER2, Raf-1, p53 and MAPK signaling. In Multiple myeloma (MM) cells, 17-AAG treatment inhibited cell proliferation and survival. The combination treatment of 17-AAG and bortezomib induced apoptosis in primary MM cells resistant to doxorubicin and bortezomib. The combination of 17-AAG and trastuzumab reduced the expression of ErbB2 in breast cancer cells overexpressing ErbB2. 17-AAG also showed efficacy in thyroid cancer cells and Hodgkin lymphoma cells. Besides that, 17-AAG was found to increased apoptosis in human melanoma xenografts. 17-AAG is now in phase II clinical studies [2].
References:
[1] Kamal A, Thao L, Sensintaffar J, et al. A high-affinity conformation of Hsp90 confers tumour selectivity on Hsp90 inhibitors[J]. Nature, 2003, 425(6956): 407-410..
[2] Dimopoulos M A, Mitsiades C S, Anderson K C, et al. Tanespimycin as antitumor therapy. Clinical Lymphoma Myeloma and Leukemia, 2011, 11(1): 17-22
文献引用
Chemical Properties
| | |
| --- | --- |
| Physical Appearance | A solid |
| Storage | Store at -20°C |
| M.Wt | 585.7 |
| Cas No. | 75747-14-7 |
| Formula | C31H43N3O8 |
| Synonyms | Tanespimycin |
| Solubility | ≥24.95 mg/mL in DMSO, ≥9.56 mg/mL in EtOH with ultrasonic, <2.34 mg/mL in H2O |
| Chemical Name | [(3R,5S,6R,7S,8E,10S,11S,12Z,14E)-6-hydroxy-5,11-dimethoxy-3,7,9,15-tetramethyl-16,20,22-trioxo-21-(prop-2-enylamino)-17-azabicyclo[16.3.1]docosa-1(21),8,12,14,18-pentaen-10-yl] carbamate |
| SDF | Download SDF |
| Canonical SMILES | CC1CC(C(C(C=C(C(C(C=CC=C(C(=O)NC2=CC(=O)C(=C(C1)C2=O)NCC=C)C)OC)OC(=O)N)C)C)O)OC |
| 运输条件 | 试用装:蓝冰运输。 其他可选规格:常温运输或根据您的要求用蓝冰运输。 |
| 一般建议 | 为了使其更好的溶解,请用37℃加热试管并在超声波水浴中震动片刻。不同厂家不同批次产品溶解度各有差异,仅做参考。若实验所需浓度过大至产品溶解极限,请添加助溶剂助溶或自行调整浓度。 |
试验操作
细胞实验 [1]:

细胞系

HT29、HCT116、KM12和HCT15细胞

溶解方法

该化合物在DMSO中的溶解度大于10 mM。若配制更高浓度的溶液,一般步骤如下:请将试管置于37℃加热10分钟和/或将其置于超声波浴中震荡一段时间。原液于-20℃可放置数月

反应条件

IC50:0.2 μM(HT29),0.8 μM(HCT116),0.9 μM(KM12)和46 μM(HCT15),24小时

实验结果

将细胞用一定浓度范围的17-AAG处理24小时,然后在不存在17-AAG的条件下再培养48小时。在四种人结肠腺癌细胞系中,17-AAG显示出抗肿瘤活性,并且剂量依赖性地降低细胞活力。对HT29、HCT116、KM12和HCT15细胞的IC50值分别为0.2、0.8、0.9和46 μM。

动物实验 [2]:

动物模型

老年nu/nu无胸腺小鼠(具有CWR22异种移植物的雄性和具有CWR22R或CESA6异种移植物的雌性)

剂量

腹腔注射,50 mg/kg

实验结果

对连续和间歇给药两种方案进行研究。"连续"给药方案为药物给药5天/周,连续3周。 "间歇"方案中,一个5天周期处理小鼠,然后监测肿瘤进展。在进展时,用第二个5天周期的药物处理小鼠。在所有三种异种移植肿瘤模型中,两种方案以剂量依赖性方式延迟生长。使用连续方案,当在对照需要处死的当天进行评估时,50 mg/kg 17-AAG抑制80%的CWRSA6肿瘤生长。在间歇实验中,17-AAG抑制87%的CWRSA6肿瘤生长。在亲代CWR22模型和第二个不依赖雄激素的CWR22R亚系中得到相似的结果。

注意事项

请测试所有化合物在室内的溶解度,实际溶解度和理论值可能略有不同。这是由实验系统的误差引起的,属于正常现象。

References:

[1] Hostein I, Robertson D, DiStefano F, et al. Inhibition of signal transduction by the Hsp90 inhibitor 17-allylamino-17-demethoxygeldanamycin results in cytostasis and apoptosis. Cancer Research, 2001, 61(10): 4003-4009.

[2] Solit D B, Zheng F F, Drobnjak M, et al. 17-Allylamino-17-demethoxygeldanamycin induces the degradation of androgen receptor and HER-2/neu and inhibits the growth of prostate cancer xenografts. Clinical cancer research, 2002, 8(5): 986-993.
生物活性
描述
17-AAG (Tanespimycin)是一种有效的HSP90抑制剂,IC50值为5 nM。
靶点
HSP90
IC50
5 nM
质量控制
化学结构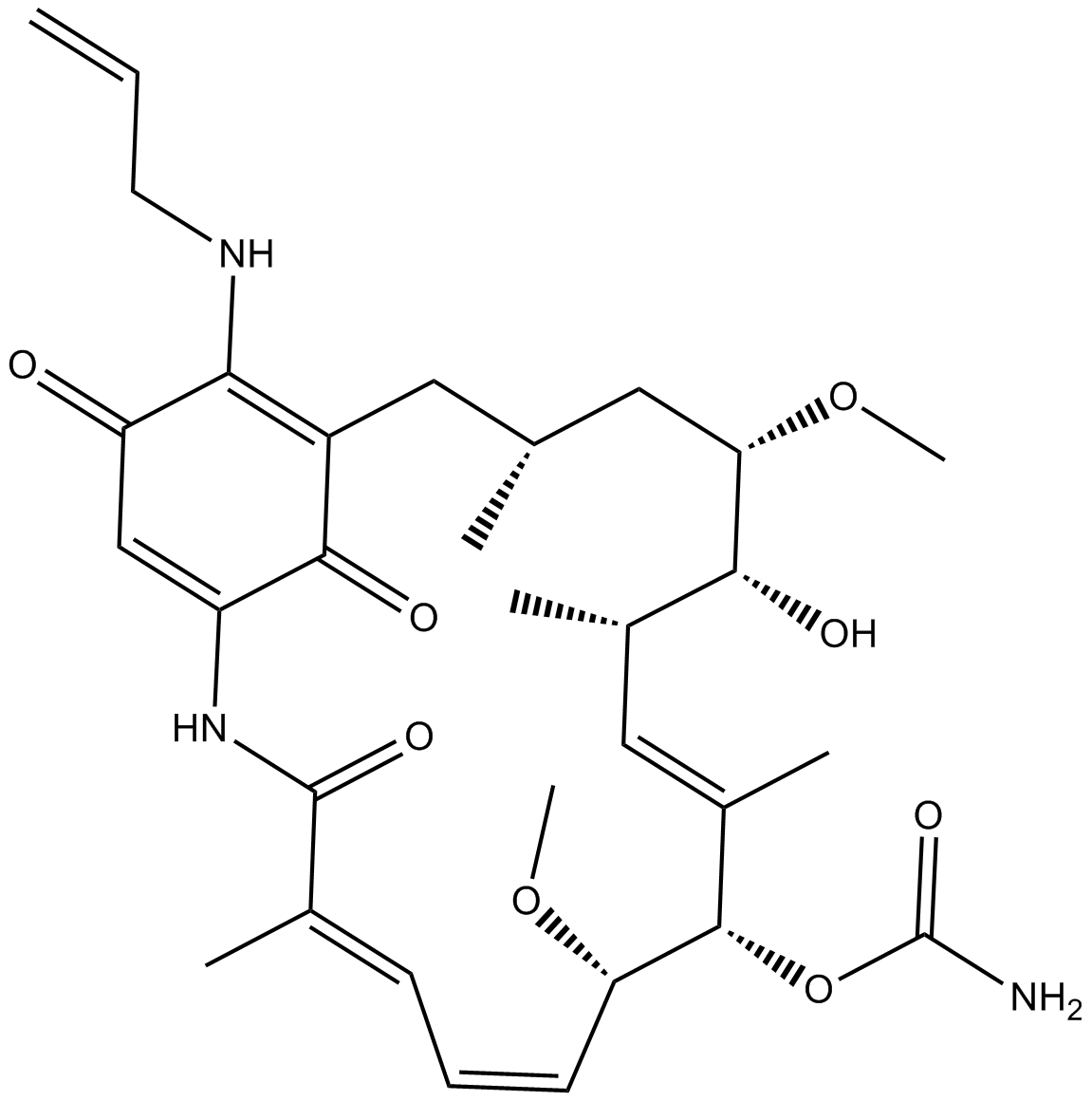 相关生物数据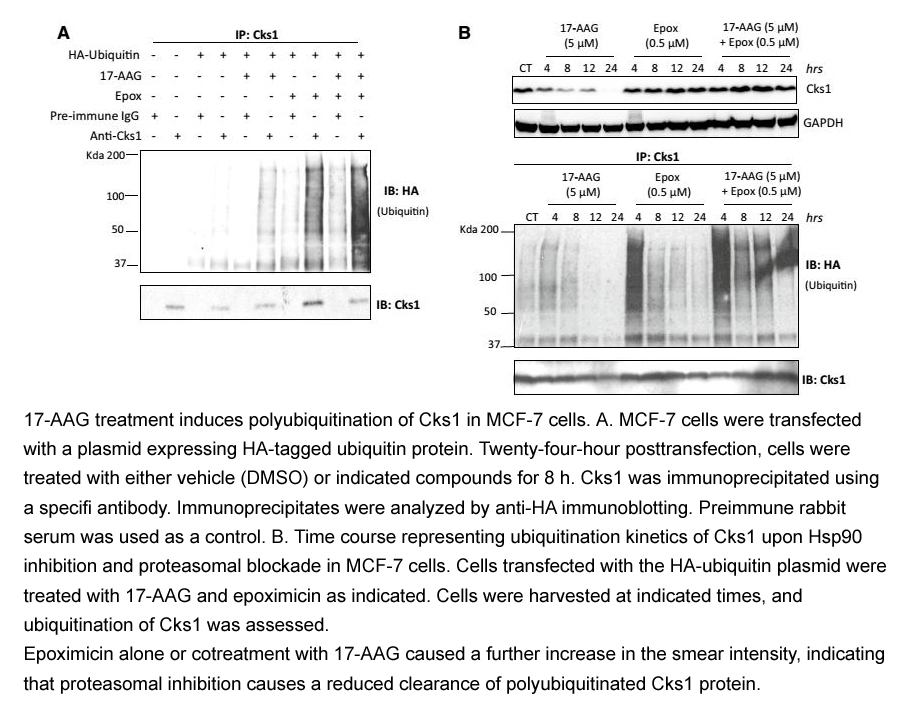 相关生物数据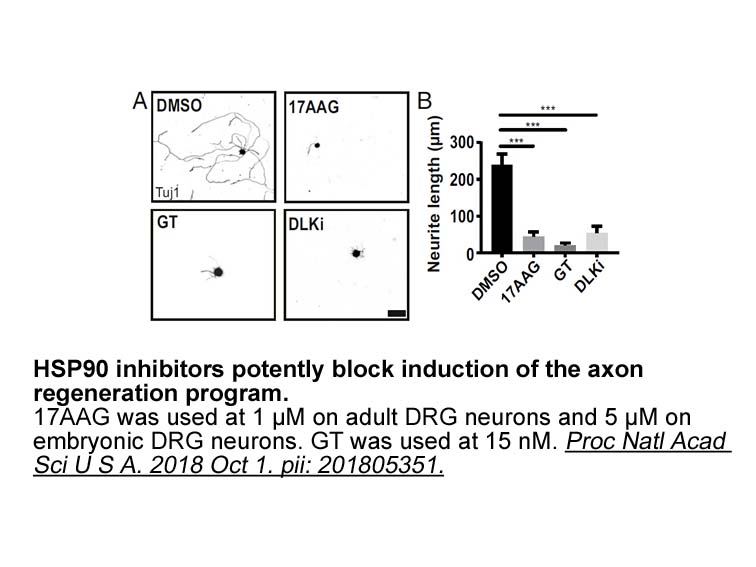 相关生物数据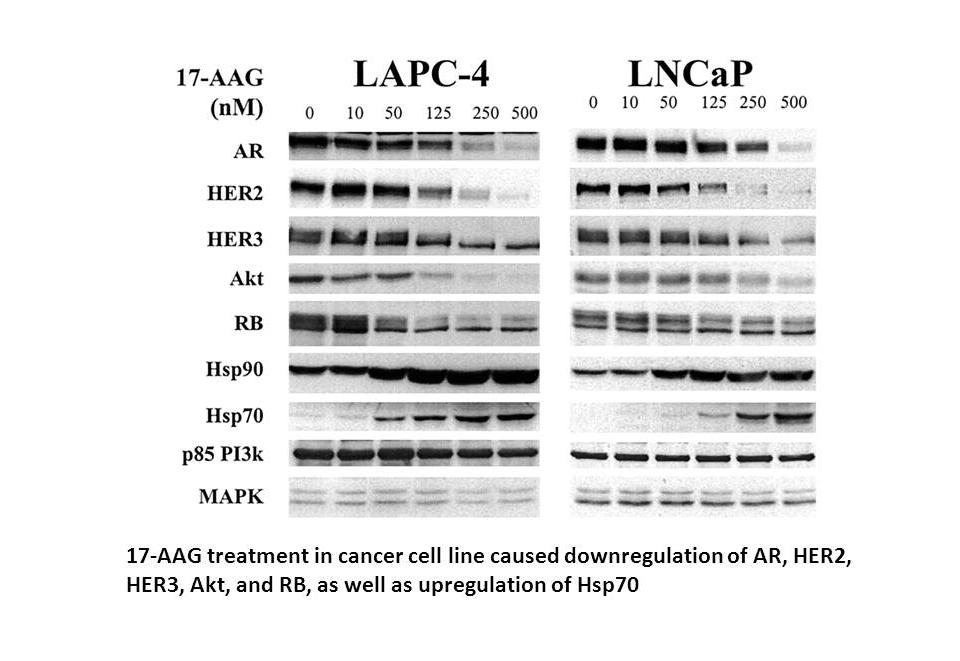 相关生物数据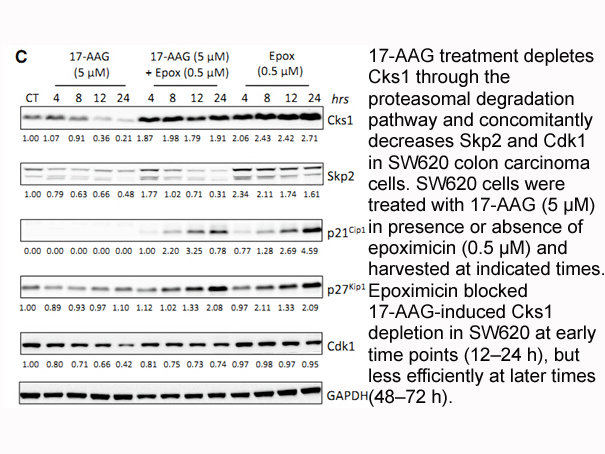 相关生物数据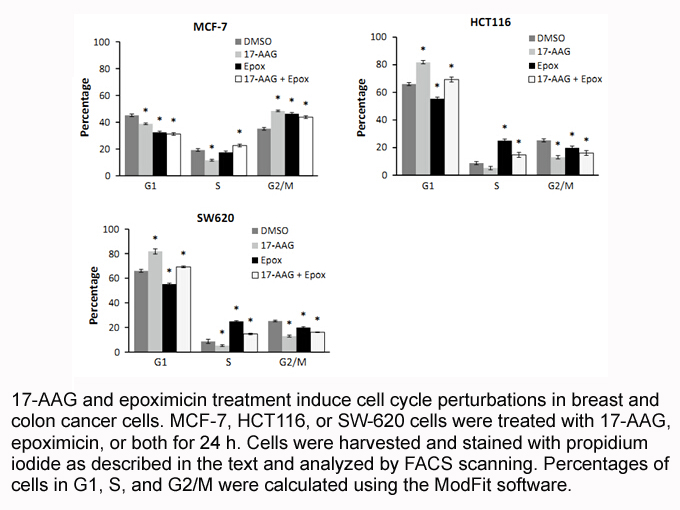 相关生物数据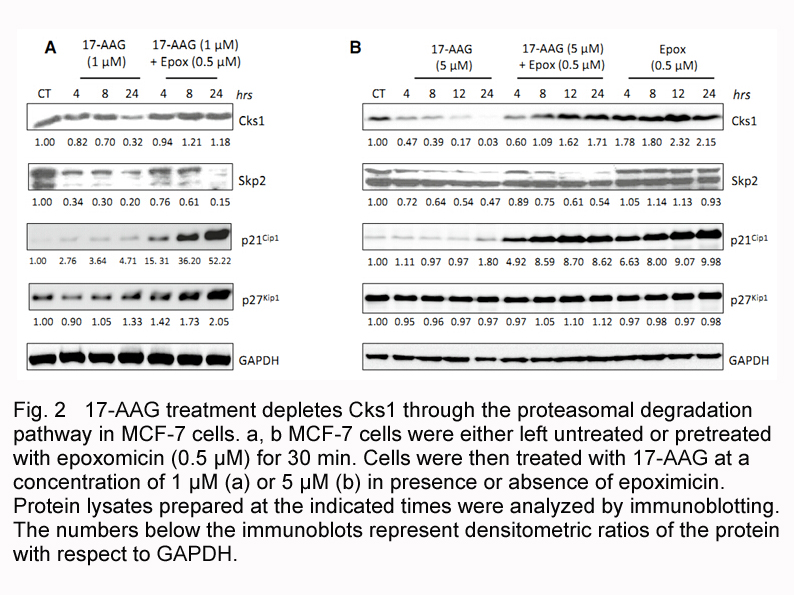 相关生物数据