Background
10Panx is a mimetic inhibitory peptide of panx1, which is a mammalian protein ectopically expressed to function as a hemi-channel, that readily and reversibly inhibits the panx1 currents. 10Panx has attracted increasing attention as it allows scientists readily and reliably to examine inhibition of panx1 in cells where efficient and consistent delivery of siRNA is highly difficult. According to results of multiple previous studies, 10Panx selectively inhibits P2X7R-induced dye uptake without altering other aspects of R2X7R activation and ATP-evoked membrane currents, constitutive dye-uptake and hemichannel-like currents that are induced by the overexpression of panx1, and ATP-mediated IL-1β release.
Reference
Pablo Pelegrin and Annmarie Surprenant. Pannexin-1 mediates large pore formation and interleukin-1β release by the ATP-gated P2X7 receptor. The EMBO Journal (2006) 25, 5071-5082
文献引用
Chemical Properties
| | |
| --- | --- |
| Physical Appearance | A solid |
| Storage | Store at -20°C |
| M.Wt | 1242.37 |
| Cas No. | 955091-53-9 |
| Formula | C58H79N15O16 |
| Synonyms | 10Panx |
| Solubility | ≥124.2mg/mL in DMSO |
| SDF | Download SDF |
| Canonical SMILES | CC(C)C(C(=O)NC(CC(=O)O)C(=O)NC(CO)C(=O)NC(CC1=CC=C(C=C1)O)C(=O)O)NC(=O)C(CC2=CC=CC=C2)NC(=O)C(C)NC(=O)C(C)NC(=O)C(CCC(=O)N)NC(=O)C(CCCN=C(N)N)NC(=O)C(CC3=CNC4=CC=CC=C43)N |
| 运输条件 | 试用装:蓝冰运输。 其他可选规格:常温运输或根据您的要求用蓝冰运输。 |
| 一般建议 | 为了使其更好的溶解,请用37℃加热试管并在超声波水浴中震动片刻。不同厂家不同批次产品溶解度各有差异,仅做参考。若实验所需浓度过大至产品溶解极限,请添加助溶剂助溶或自行调整浓度。 |
试验操作
细胞实验[1]:

细胞系

人红细胞(RBCs)

溶解方法

在无菌水中的溶解度>10 mM。原液应分装,在-80℃以下可储存几个月。

反应条件

200 μM

应用

10Panx可以减少90.9±15.5%的pO2降低诱导的ATP的释放,而不影响 ILO诱导的ATP的释放。

注意事项

请测试所有化合物在室内的溶解度,实际溶解度和理论值可能略有不同。这是由实验系统的误差引起的,属于正常现象。

References:

[1] Sridharan M, Adderley S, Bowles E, et al. Pannexin 1 (PANX1) is a Conduit for ATP Released from Human Red Blood Cells (RBCs) Exposed to Low Oxygen Tension. The FASEB Journal, 2010.
生物活性
描述
10Panx(Panx-1模拟抑制肽)是pannexin-1间隙连接的阻断剂。
靶点
Gap Channels
IC50
质量控制
化学结构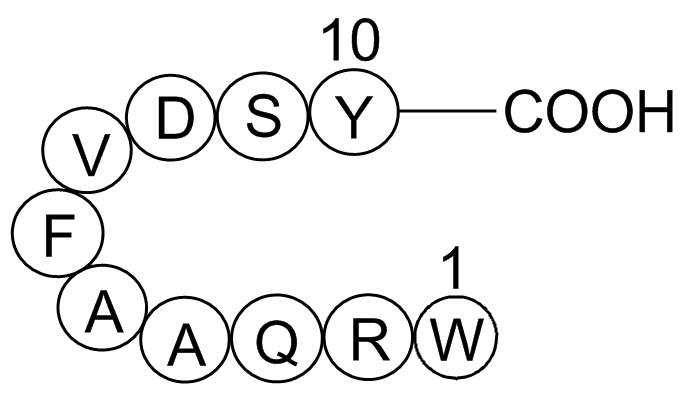 相关生物数据