质量控制
化学结构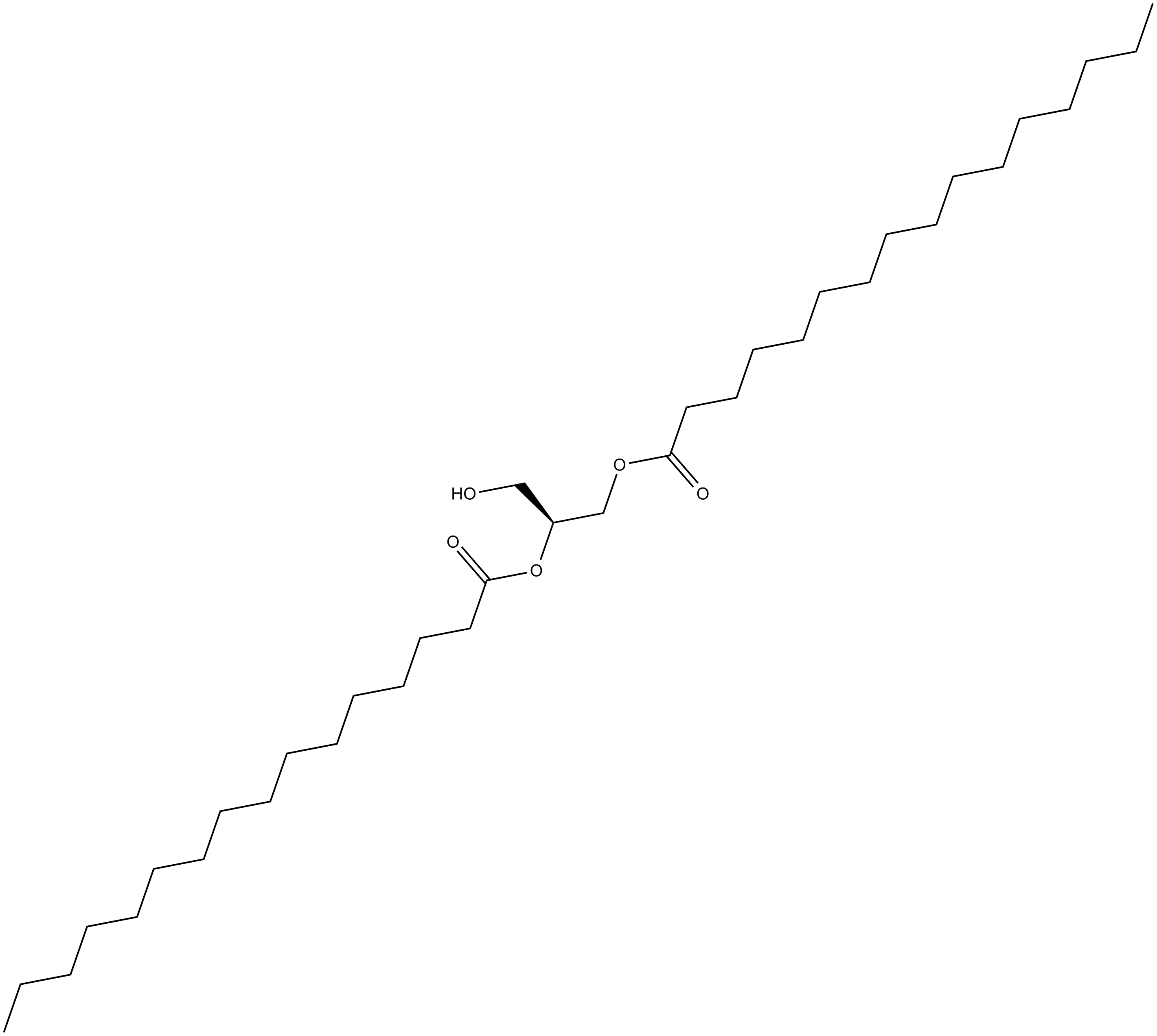 化学性质
CAS号
30334-71-5
SDF
Download SDF
别名
1,2-DPG,NSC 269964
化学名
1,2-bis(O-palmitoyl)-sn-glycerol
SMILES
CCCCCCCCCCCCCCCC(=O)OC[C@H](CO)OC(=O)CCCCCCCCCCCCCCC
分子式
C35H68O5
分子量

568.9

溶解度
≤20mg/ml in ethanol;5mg/ml in DMSO;20mg/ml in dimethyl formamide
储存条件
Store at -20°C
物理性状
A crystalline solid
运输条件
试用装:蓝冰运输。
其他可选规格:常温运输或根据您的要求用蓝冰运输。
一般建议
为了使其更好的溶解,请用37℃加热试管并在超声波水浴中震动片刻。不同厂家不同批次产品溶解度各有差异,仅做参考。若实验所需浓度过大至产品溶解极限,请添加助溶剂助溶或自行调整浓度。
产品描述
1,2-Dipalmitoyl-sn-glycerol (1,2-DPG) is an analog of the protein kinase C (PKC)-activating second messenger diacylglycerol [1].
Protein kinase C (PKC), which can phosphorylate serine and threonine, is a family of protein kinase enzymes involved in regulating the function of other proteins. Protein kinase C plays an important role in several signal transduction cascades. Protein kinase C has been implicated in modulating membrane structure events, mediating immune responses, regulating transcription, learning and memory, and regulating cell growth [2].
Diacylglycerol is a glyceride with two fatty acid chains covalently bonded to a glycerol molecule through ester linkages. Diacylglycerol acts as a second messenger signaling lipid. Diacylglycerol is generated through the hydrolysis of the phospholipid phosphatidylinositol 4,5-bisphosphate (PIP2) by the enzyme phospholipase C (PLC). Production of DAG facilitates translocation of PKC from the cytosol to the plasma membrane [3].
1,2-Dipalmitoyl-sn-glycerol (1,2-DPG) is a weak activator of PKC. 1,2-Dipalmitoyl-sn-glycerol at 25 μM activated 15% of PKC [1].
References:
[1] Walker J M, Sando J J. Activation of protein kinase C by short chain phosphatidylcholines[J]. Journal of Biological Chemistry, 1988, 263(10): 4537-4540.
[2] Stabel S, Parker P J. Protein kinase C[J]. Pharmacology & therapeutics, 1991, 51(1): 71-95.
[3] Berridge M J. Inositol trisphosphate and diacylglycerol: two interacting second messengers[J]. Annual review of biochemistry, 1987, 56(1): 159-193.